Step, tap and shuffle with London's urban cloggers
By Lisa Essex
LONDON (Reuters Life!) - If you're looking for friends, fun and a night out in London that doesn't involve getting legless in a pub, why not slap on a pair of clogs?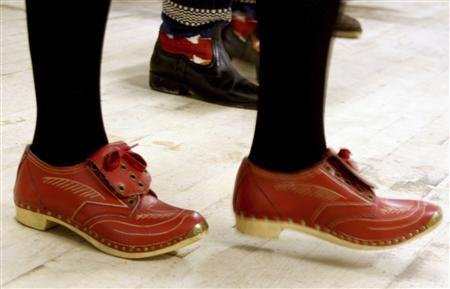 Busy professionals looking for exercise, dance enthusiasts and those just keen on a little camaraderie in the urban jungle have been pitching up in north London's trendy Camden district to learn the 19th century mill worker tradition of clog dancing.
But the organisers of Camden Clog (http://www.camdenclog.org.uk) say you can't learn by just asking questions. You need to join the class.
Students rushed in from work to change hurriedly out of running shoes or high heels into the leather topped, wooden-soled clogs with metal toe-caps for a class that will have them tapping toes, shuffling and stepping lively.
Note to single men: The classes were small, but all women.
Camden Clog teach Lancashire clog dancing, which evolved from the textile workers of the 19th century stamping out rhythms as they worked in the mills, wearing wooden-soled clogs as protection from the wet floors.
"Living in London, it's good to have a different hobby, not just pubs and bars," 26 year-old communications co-ordinator Sorcha Hunter said. "It makes you use your brain."
The wooden floor in the beginner classroom has been worn smooth by generations of dancers. The venue was purpose built in 1930 and is home to the English Folk Dance and Song Society.
The key movements in Lancashire clog dancing are step, tap and shuffle, but beware you foot-draggers because none of the this should be done on your heels.
"Come forward! You won't learn anything dancing against the chairs," shouted Ruth 'Ru' Rose, the 26 year-old instructor who's been clog dancing since the age of six.
Rose has been teaching from the age of eight, when she would take aside aspiring cloggers in her mother's class who needed more intensive help.
"If there were people who couldn't shuffle, I'd take them off to go through it until they got it."
Debbie Chalmers has been clog dancing for three years. She makes a living repairing violins and cellos for a living, but spends her weekends playing violin at barn dances.
"The social side, going to festivals, is great," she said.
According to Malcolm Taylor, the Society's librarian, there is a new revival of folk culture, particularly among those in their mid-twenties. The Society's website lists more than 75 festivals taking place in Britain alone in 2007.
"There is huge attendance at folk festivals," said Taylor. "It's amazing when you think that 50 years ago there were only three or four festivals."
He said that interest in folk culture had declined since the peak in the 1960s, but has been rising in the last few years with more young people taking an interest.
"The average age of people coming through the door has plummeted," he said, adding that people were discovering the social aspects of folk dance.
"Think of the social skills required to dance," he said. "It's a community skill which involves all age groups. And that's what you see at festivals, people of all ages dancing together."
Camden Clog classes take place in Cecil Sharp House, which is named after an English philanthropist who devoted his life to collecting folk dances and promoting their teaching.
Ironically, Sharp -- like many late Victorian folk collectors -- preferred romanticised country dances to "tainted" urban pastimes such as clogging.
Clog dancing was also a popular public entertainment in 19th and 20th century Music Halls.
Film legends Charlie Chaplin and Stan Laurel, of Laurel and Hardy fame, were both clog dancers early in their stage careers and in the 1880s, the northern English city of Leeds used to hold competitions for Champion Clog Dancer of the World.
As well as the clog workshop, Cecil Sharp House also hosts classes in Morris dancing, Salsa, Latin and much more.
Instructor Rose's boyfriend devotes his leisure time to Morris dancing and Rapper sword dancing, an unbroken chain of five people dancing with two-handled flexible swords.
After Rose puts the beginners through the basic steps in the dance, accordion player John Dickson, who has played for Camden Clog for 14 years, begins to accompany the class and then the beginners have perform in front of the advanced students.
"It's about attitude. Keep looking ahead and look confident, and people won't notice your feet," Rose advises.
Many beginners look aghast at the prospect of having to take their eyes off their feet during the unfamiliar steps.
Ruth Witczak, a 31-year-old education officer at London Zoo, was one of the more confident beginners. She's been coming to this class for a year and also finds time for belly dancing and international folk dancing as well.
She said she was unfazed by the "mainly laughter" which greets her when she tells people about her hobby.
"I think it's quite cool and it's good exercise," she said.
At the end of the night while changing out of their brightly laced clogs, the cloggers talk about forthcoming festivals, dances and whether to pop into the open microphone folk singing night at the downstairs bar.
Amid the hubbub, the flushed faces and the easy camaraderie after class Witczak explains how it is she found clogging and why she's stayed at it.
"I was looking for tap in London, and couldn't find it," said Witczak. "I found clog dancing, and found a community."
© Thomson Reuters 2023 All rights reserved.