Sudan 'trouser' journalist back in the dock
KHARTOUM (AFP) — A Sudanese journalist facing 40 lashes for wearing "indecent" trousers returns to court on Tuesday 4 August after waiving immunity granted UN workers so that she can challenge Sudan's harsh laws.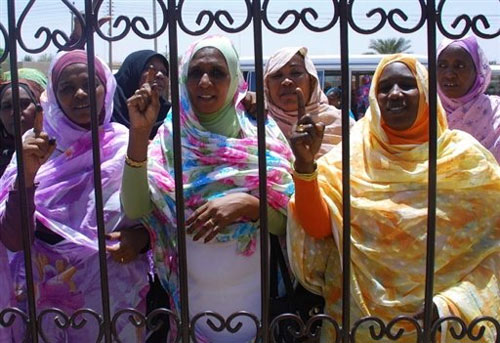 Hussein wants to change a law that decrees whipping for women who wear 'indecent' clothes - Photo:AFP
Journalist Lubna Ahmed al-Hussein is to be judged under Article 152 of Sudanese law, which decrees up to 40 lashes for anyone "who commits an indecent act which violates public morality or wears indecent clothing."
Ten woman have been already whipped for the same offence -- including Christians -- and Hussein, who works for the UN media office in Sudan, has told AFP she is ready to be flogged as well.
Hussein, in her 30s and whose husband died of kidney failure, could have claimed immunity as a UN worker but she refused that option at a hearing last week, saying she wanted to change the country's laws.
"I'm ready for anything to happen. I'm absolutely not afraid of the verdict," she told AFP in an interview on Monday 3 August.
Police arrested Hussein and 12 other women wearing trousers at a Khartoum restaurant on July 3. Two days later 10 of the women accepted a punishment of 10 lashes, but Hussein is appealing in a bid to eliminate such rough justice.
The other two women are also facing charges.
A defiant Hussein, who also faces a fine of 250 Sudanese pounds (100 dollars) if found guilty, told a packed courtroom last Wednesday (29 July): "I wish to resign from the UN, I wish this court case to continue."
Her lawyer said the "court gave Lubna the choice either to accept immunity from the UN or to waive that and go on with the trial."
Hussein told AFP she will appeal any whipping.
"If I'm sentenced to be whipped, or to anything else, I will appeal. I will see it through to the end, to the constitutional court if necessary.
"And if the constitutional court says the law is constitutional, I'm ready to be whipped not 40 but 40,000 times," she insisted.
Many female supporters, some wearing trousers, crammed the courthouse last week as Hussein arrived at the hearing in the same moss-green slacks she wore when she was arrested.
"We are here to support Lubna, because this treatment of women is arbitrary and not correct," said Zuhal Mohammed Elamin, a law professor in Khartoum. "Women should not be humiliated in this manner."
Police have also cracked down on another woman journalist, Amal Habbani, who published an article in Ajrass al-Horreya newspaper (Bells of Freedom) entitled: "Lubna, a case of subduing a woman's body."
"I am waiting for a decision," Habbani told AFP after she was charged with defaming police, a charge which can carry a fine of up to several hundred thousand dollars.
Hussein said she wants to get rid of Article 152 which "is both against the constitution and sharia (Muslim law)" and insists that nothing in the Koran says that women should be flogged over what they wear.
"If some people refer to the sharia to justify flagellating women because of what they wear, then let them show me which Koranic verses or hadith (sayings of the Prophet Mohammed) say so. I haven't found them," she said.
Unlike many other Arab countries, particularly in the Gulf, women have a prominent place in Sudanese public life. Nevertheless, human rights organisations say some of the country's laws discriminate against women.
Copyright © 2022 AFP. All rights reserved. All information displayed in this section (dispatches, photographs, logos) are protected by intellectual property rights owned by Agence France-Presse. As a consequence you may not copy, reproduce, modify, transmit, publish, display or in any way commercially exploit any of the contents of this section without the prior written consent of Agence France-Presses.