Surprise UK retail sales rise does little to lift gloom
Apr 21 - British retail sales rose unexpectedly in March, helped by stronger food sales but doing little to alter the picture of fragile consumer demand that is deterring the Bank of England from raising interest rates.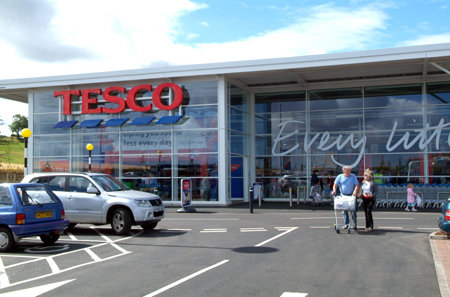 Tesco superstore in North Berwick, Scotland
Other data showed the government borrowed slightly less in the 2010/11 fiscal year than the Office for Budget Responsibility had predicted last month, but the finance ministry said this did not lessen the need for it to press on with hefty public spending cuts.
The Office for National Statistics said retail sales volumes including automotive fuel rose 0.2 percent last month, confounding forecasts for a 0.5 percent fall, after February's 0.9 percent decline.
Analysts had been braced for a weak number, after a very poor British Retail Consortium survey last week, and the pound hit a fresh 16-month high versus the dollar and also strengthened against the euro in response to the data.
Analysts said underlying sales in the three-months to March confirmed a picture of subdued consumer demand, however. They said the numbers were unlikely to cause much excitement at the Bank of England, where policymakers are concerned about weak household spending and an uncertain outlook for growth.
"These figures and those from the last couple of months are not really showing the retail sector as being a picture of health," said Victoria Cadman, economist at Investec.
"I suspect the Monetary Policy Committee will not see this as a sign that consumer demand is gathering pace."
Year-on-year, retail sales were 1.3 percent higher. Economists had forecast a month-on-month fall of 0.5 percent and an annual rise of 0.9 percent.
The ONS said the monthly increase was driven by the strongest rise in food store sales since June. Sales at garden centres and sports goods stores were also boosted by better weather this March than a year ago.
Non-store sales, which includes internet retailing, also rose strongly on the month, and the ONS noted that sales at small local shops had also enjoyed a boost.
On the quarter, retail sales volumes were 0.3 percent higher, suggesting the sector is poised to make only a modest contribution to first-quarter GDP data due next week.
Retailers have been complaining about tough conditions on the High Street as consumers face rising prices, higher taxes and muted wage growth. The biggest public spending cuts in a generation also prompt worries about job security for many.
British supermarket chain
Tesco
(TSCO.L) said this week it failed to meet its UK profit expectations for the last year and expected conditions to remain challenging. On Wednesday, Home Retail (HOME.L), Britain's biggest household goods retailer, said it would face a hard time for at least the rest of 2011.
PUBLIC BORROWING DOWN
Still, there was some good news for the government. Data released on Thursday showed that public sector net borrowing excluding financial sector interventions came in at 141.142 billion pounds in 2010/11, comfortably below the 145.9 billion pounds predicted by the Office for Budget Responsibility at last month's annual budget.
On the month, PSNB-ex was 18.632 billion pounds, down from 19.756 billion in March 2010, while PSNB including financial sector interventions fell from a year earlier to 16.393 billion, below economists' forecasts of 18.55 billion.
However, the Treasury said that the 2010/11 figures did not mean it could ease the pace of public spending cuts in future years, which aim to eliminate the government's budget deficit over the next four years.
"As this week's action by S&P (on the United States) has shown, concerns over deficits persist for even the largest economies, and we need to stick to our plan to pay off the nation's credit card over the course of this parliament," a Treasury spokesman said.
The UK Debt Management said it would reduce the amount of government bonds it will issue in 2011/12 by 1.5 billion pounds to 167.5 billion, as a result of t he lower 2010/11 borrowing figures.
By Fiona Shaikh and David Milliken
(Editing by Patrick Graham)
© Thomson Reuters 2022 All rights reserved.