Swiss watch exports drop as downturn bites
ZURICH, Dec 18 (Reuters) - Switzerland exported half a million fewer watches in November as the economic downturn hit the country's key watch making industry in the first monthly decline since March 2005, data showed on Thursday, December 18th.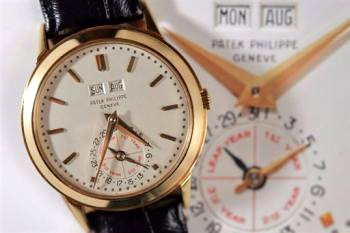 Un modèle unique de montre Patek Philippe photographié à Genève le 12 novembre 2008 - Photo : AFP
Exports fell 15.3 percent to 1.52 billion Swiss francs ($1.35 billion) after a 0.1 percent rise in October.
Shares of leading watchmakers Swatch Group and Richemont fell sharply. Richemont was down 5.1 percent at 20.48 Swiss francs at 0828 GMT, while Swatch was off 3.8 percent at 143.20 francs, compared to a 0.5 percent weaker DJ Stoxx European index of personal and household goods .SXQP.
"This decline clearly illustrates the curb on growth suffered by the industry as a result of the world economic climate," the Federation of the Swiss Watch Industry said in a statement, adding November was usually the year's best month.
"Most markets registered double-digit declines," it said, with falls of 25 percent in the United States, 17 percent in Hong Kong, and 14 percent in Japan, three of the top markets for Swiss watches, while France and Germany still saw increases.
"The U.S., Hong Kong and Japan figures are a lot worse than reported given a 10 percent improvement in the dollar year-on-year in November and close to 20 percent improvement in the yen," said Kepler Capital Markets analyst Jon Kox.
"Whispers that November data might not be as bad as expected were clearly wrong and we would expect pressure on watchmakers (and branded goods sector) as a result of the data."
The Swiss federation said exports of wristwatches fell by 15.1 percent in value terms in November, while 17.4 percent fewer units left Switzerland in the month, a decline of half a million watches to 2.4 million.
It said all price segments saw declines, with exports of watches worth between 500 and 3,000 francs hardest hit, contracting 30 percent, while watches costing more than 3,000 francs only fell by 5.4 percent by value.
Analysts have predicted that 2008 would be the year Swiss watchmakers would suffer their first significant slowdown in half a decade and 2009 would be even worse as the financial crisis spills over into the real economy. ($1=1.124 Swiss Franc) (Additional reporting by Katie Reid; Editing by Mike Nesbit)
© Thomson Reuters 2023 All rights reserved.