The 'personal shopper' -- your guide to style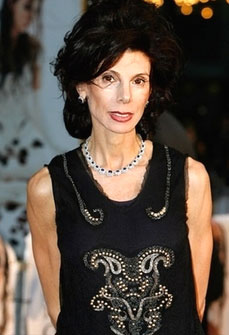 Susan Tabak - Photo : Amy Sussman/AFP
PARIS, Jan 16, 2008 (AFP) - Feeling frumpy, style-dead, or just plain sick about shopping ? Once a service reserved to the rich and famous, more and more people nowadays are going to personal shoppers to look just right.
Take New York "personal shopper" Susan Tabak. From a word-of-mouth cottage industry built on her own longtime taste for Paris chic, Tabak in seven years has built up a business as speaker and international expert on luxury.
She has a blog, gets invited to industry events and very-restricted Paris fashion shows, is shooting videos, and in 2006 published a "Chic in Paris" guidebook of which just-divorced French first lady, Cecilia Sarkozy, said : "I read and adored".
The launch of the book, that runs out her style secrets and best Paris addresses, took place at a pre-eminent fashion location, Louis Vuitton's NYC store. Tabak and the book have had press coverage from the New York Times to Vogue.
"I'm a promoter of fashion, it's a passion that turned into a business," says Tabak, who scours Paris five to six times a year, shepherding wannabe dressers into the cream boutiques and catwalk shows.
In Paris' Montmartre district, 30-something Frenchwoman Rachel Moukala tells a similar tale.
A longtime lover of art and design, she went in five years from helping US friends and family, as a favour, buy "made in Paris" clothes and objects to full-blown "personal shopper", with two to three clients signed up a week -- at anywhere between 400 to 1,000 euros (600 to 1,500 dollars) a shot for a customised tour.
"My know-how is being able to listen to people," she says. "Understanding their needs and making them happen. When I dress someone it's to make them look better. It's not about following a fashion trend that doesn't necessarily suit everybody, it's about gently helping people improve their style."
Paris, said both women, had a reputation for style still unequalled anywhere else.
"In the US we are consumers and tend to buy a total look, whereas in France people mix and match," said Tabak. "In Paris there is this fine line of being at once chic and sexy."
American women, agreed Moukala, were after the Parisian look, "having style and charisma without looking like everyone else."
One challenge for her last year came up in the run-up to the Cannes film festival in May, when a budding actress from Los Angeles asked to be fitted out to dazzle.
"She wore bling-bling jewellery, had too much make-up on but wanted to look like a Frenchwoman -- chic but not vulgar -- while remaining attractive to her lover."
Aged anywhere from 30s to 60s, from diplomat's wives to businesswomen or movie starlets, the personal shopper's client might be after a dress for a one-off occasion, ready for a complete clean-out of the cupboard, or simply be seeking to save time by hiring a pro.
Paris department store Printemps, which sets a heavy focus on its fashion offering, several years ago sussed the need for customised assistance and offers totally free personal service on appointment, called "Le Shopping".
"100 percent fashion, 0 percent stress," says its personal shopper brochure.
Organised over a cup of coffee in an armchaired office with a bird's eye view of Paris, the store's dozen-odd multi-tongued "personal shoppers" discuss the customer's needs, budget, favourite colours and cuts before wandering the shop for what "shopper" Bertrand Le Gal described as "le picking".
"I don't impose a brand but I know the labels and I know what brand will sit well on what silhouette," he said. "We choose garments, bring them back here and try them on. There's no obligation to buy."
"We help people look better," said Le Gal, whose department keeps a register of sizes of regular customers.
In his three years there, the former men's corner salesman has gathered some 50 special clients who phone in orders or whom he contacts when he sees a special something come in that would be perfect for them.
One such regular customer was a businesswoman who on her first visit stated she was size 42. "In fact she was a size 38 and had been hiding inside her clothes for years," he said. "I got her to wear shorter jackets, sexier bras, change her make-up."
Amanda DeSeta, a film and television producer who has a company in Los Angeles, used the Printemps service this Christmas and went home very happy.
Faced with the chore of buying presents for 10 people, she and her husband made an appointment "because I don't like wasting my time on shopping," stated their budget, described the people they were offering gifts to, and then trekked through the shop with the shopper.
"We got everything done in two hours," she said. "She got my taste, she was very efficient at gauging what we wanted. It was all so easy, it was a much more luxurious experience than I'd ever had before."

By Claire Rosemberg
Copyright © 2023 AFP. All rights reserved. All information displayed in this section (dispatches, photographs, logos) are protected by intellectual property rights owned by Agence France-Presse. As a consequence you may not copy, reproduce, modify, transmit, publish, display or in any way commercially exploit any of the contents of this section without the prior written consent of Agence France-Presses.