Tony Leung defends blacklisted Chinese "Lust" actress
HONG KONG (Reuters) - Award-winning Hong Kong actor Tony Leung said Chinese actress Tang Wei should not have been singled out and blacklisted by Beijing, following her sexually explicit role in the acclaimed movie "Lust, Caution."
China's State Administration of Radio Film and Television (SARFT) recently demanded local stations cease airing ads starring Tang, including skin care commercials for cosmetics brand Pond's, which local media have linked to her sexually explicit and politically sensitive role in "Lust."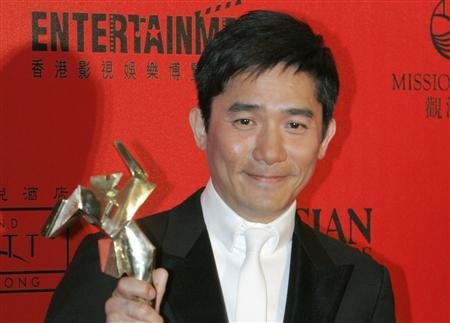 In the run-up to the Beijing Olympics in August, China has moved to crack down on broadcasters, Web sites and print media showing sexually explicit content.
"I think the (Chinese) film authority understands an actor's place," Leung said after picking up the best actor award at the Asian Film Awards in Hong Kong on Monday night.
"Our work is only to express our roles and I don't think that an actor should be blacklisted because of this."
He said the entire film crew including himself had a shared responsibility to bear any controversy generated by the film.
"If a film has problems, then the whole (film production) crew should have a responsibility. We are a team and not an individual, and I'm a part of this team," said Leung at a post-award media conference.
Tang, 28, lost out on the best actress award at the Asian Film Awards for her debut performance in "Lust, Caution." She played a student activist who seduces a Japanese-allied Chinese spy during Japan's World War Two occupation of Shanghai.
The film's Oscar-winning director Ang Lee earlier expressed "regret" that Tang had been hurt by the blacklist decision.
(Reporting by James Pomfret; editing by Mary Gabriel)
© Thomson Reuters 2023 All rights reserved.