Top German politicians bicker over Arcandor aid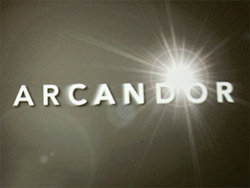 Photo : AFP
FRANKFURT, May 31 (Reuters) - German politicians duelled in weekend newspaper interviews over the merits of supporting troubled retailer Arcandor (AROG.DE), which has warned it could go bust within weeks without more than $1 billion in state aid.
The head of the Social Democrats (SPD), ruling partners with Chancellor Angela Merkel's conservatives, supported offering a state crutch, but a leading conservative opposed it, heightening the rift in Berlin over who deserves a bailout and why.
While requests for state support need to be judged case by case, companies such as carmaker Opel (GM.N) and Arcandor are too important to go bust, SPD Chairman Franz Muentefering argued.
"Hopefully this is not controversial for core industries like Opel and we have to help retailer Arcandor as well. We will try," he was quoted by the Bild newspaper as saying.
"The guarantees at stake here strike me as necessary and oriented toward the future. We cannot forget that several thousand jobs -- primarily for women -- in the important services sector are riding on this."
While he acknowledged that management errors had contributed to Arcandor's parlous state, he said staff should not be punished for this.
Vice-Chancellor Frank-Walter Steinmeier, the SPD candidate running against Merkel in September elections, told Bild am Sonntag that the failure of Arcandor's Karstadt stores could devastate inner cities across Germany and cost 50,000 jobs.
"I will commit myself to finding a forward-looking solution for the entire department store sector in Germany. Karstadt and Metro should speak to each other as equals about this," he said.
He was referring to Arcandor's talks with Metro (MEOG.DE) over merging their department store chains, a plan Metro says could head off state aid for its rival but which Arcandor insists can only complement state support.
Roland Koch, premier of Hesse state and a member of Merkel's Christian Democrats, told the Rheinische Post paper Arcandor should not be bailed out because it had a profitable tourism business centred on its majority stake in Thomas Cook (TCG.L).
"Taxpayers cannot bear the cost of protecting the owners' assets," he was quoted as saying.
Long struggling to break even, Arcandor has been dragged deeper into crisis by the global recession, prompting its chief executive to warn that the company could go bust by June 12.
The Economy Ministry said on Friday 29 May the government was still examining Arcandor's request for help.
The Frankfurt Allgemeine Sonntagszeitung (FAS) reported that Metro CEO Eckhard Cordes would meet SPD officials this week to lobby against state intervention.
The paper said he would argue that Metro's Kaufhof stores would take over several Karstadt stores should Arcandor become insolvent and that no more than 5,000 jobs would go.
In a separate interview, Deutsche Euroshop (DEQGn.DE) CEO Claus-Matthias Boege said his real estate company that specialises in shopping malls would not buy any Karstadt stores.
"Most of these buildings are not suited to be shopping centres because they are four or five stories high. Customers have little desire to go to the upper floors," he told the FAS.
He said he opposed state aid to Karstadt stores because this violated free-market principles and because Karstadt's woes began years ago, not as a result of the financial crisis.
© Thomson Reuters 2023 All rights reserved.