Total retail sales rise 1.5 percent year-on-year
July 12 - Retail sales showed sluggish year-on-year growth last month, and demand for big-ticket items remained weak, the British Retail Consortium said on Tuesday, in data which is unlikely to ease worries about second-quarter GDP growth.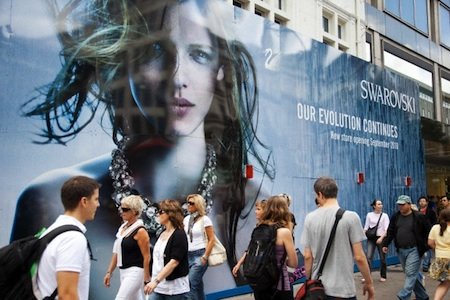 Shoppers in the heart of London's shopping district on Oxford Street - photo: corbis
Total retail sales excluding automotive fuel rose by an annual 1.5 percent in June in value terms, up from the 0.3 percent year-on-year decline in May. For Q2 as a whole, retail sales values were 2.7 percent higher than a year earlier.
The BRC does not provide estimates of growth in retail sales volumes -- which feed into GDP estimates -- but the high current rate of inflation means that these are likely to be much lower, or even negative.
Since the release of weak May industrial output and construction figures last week, some economists have worried that the UK economy as a whole may have contracted between April and June.
Like-for-like retail sales, a measure that excludes new floor space and closing stores, and is favoured by some equity analysts, showed a 0.6 percent annual decline, a slower pace than the 2.1 percent fall recorded in May.
April's royal wedding and warm weather brought a bumper month for retailers, followed by a subsequent fall in May.
The BRC was cautious about June's modest improvement.
"Given June's spate of shop closure announcements and weak company results, these figures are not as bad as they could have been, but it shows just how tough times are when total sales growth of 1.5 per cent is regarded as not that bad," said BRC Director General Stephen Robertson.
"Sales continue to be under huge pressure from the squeeze on disposable incomes produced by rising inflation and low wage growth," he added.
The biggest gains in sales came from 'home textiles', helped by earlier-than-usual seasonal discounting. Sales of some goods -- such as summer clothes and garden furniture -- suffered from the fact that customers had already bought new items during a period of warm weather in April.
The past few months have seen the collapse of a raft of well-known retail names, including wine seller Oddbins, home improvement firm Focus DIY, home furnishings retailer Habitat UK, Moben Kitchens owner Homeform, fashion retailer Jane Norman and discount department store chain TJ Hughes.
Even retailers still in business are closing outlets as demand wanes and trade shifts to the internet. Mother and baby products firm Mothercare, chocolatier Thorntons, floor coverings retailer Carpetright and electricals firm Comet are closing hundreds of stores between them.

(Reporting by David Milliken; editing by Ron Askew)
© Thomson Reuters 2023 All rights reserved.