Turkey: 60 billion dollars in textile exports by 2023
Turkish exporters have submitted their development agenda several days ago. Their plan aims to bring domestic textile and clothing export annual revenues up to $60 million by 2023. This would represent an 11% increase from last year's revenues, which stood at $16.5 billion. The project is expected to create 1.5 million new textile jobs within the next 13 years.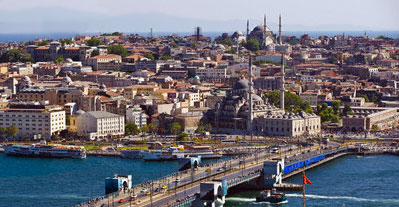 View of Istanbul
The industry's agenda is part of a national plan that aims to bring Turkey a total of $500 billion in export revenues. The choice of the target year 2023 is not trivial: this will mark the hundredth anniversary of the founding of the Turkish Republic.
The project is run by the Uludag Clothing and Ready-to-wear Export Union (UHKIB), and largely supported by the Istanbul Textile and Apparel Exporter Associations (ITKIB). Launched in 1986, the latter is a conglomeration of some 16,000 companies. The organization brings together four associations, which are in turn made up of exporters of clothing, textiles, leather and rugs.

This plan was presented just as Turkey adopted a tax increase in October on imports of textiles and clothing. The measure was designed to defend the sector's domestic industry against foreign competition. Valid for a maximum of four years, these increases are of 20% on clothing and accessories, and 20% on fabrics.

Turkey is the second largest supplier of clothing to the European Union, behind China and ahead of Bangladesh. The country exported 7.7 billion euros of clothing to the European continent in the 2010 fiscal year, an increase of 11.6%. This is in addition to 3.4 billion in textiles, as compared to 2.9 last year. 2011 figures are expected this spring.
Copyright © 2022 FashionNetwork.com All rights reserved.