U.S. holiday weekend sales surge, Best Buy a winner
U.S. retailers racked up a record $52.4 billion in sales over the Thanksgiving weekend, a 16.4 percent jump from a year ago, as early hours and attractive promotions brought out more shoppers, an industry trade group said on Sunday.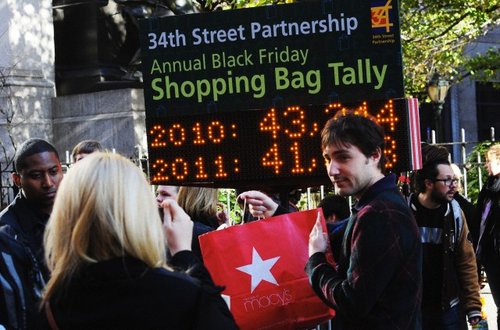 "Black Friday" Macy's Herald Square / Photo: Corbis

Among the early winners after the traditional start of the holiday shopping season was Best Buy Co Inc (BBY.N), a reversal from 2010 when the electronics retailer's erroneous bet on 3D televisions led to a disappointing season.
Best Buy drew in shoppers by being one of the companies that opened its stores at midnight Thanksgiving night, and unlike in 2010, it focused more on having lower prices for big TVs and other popular items.
"Last year, they weren't as responsive with their pricing as they needed to be. We are seeing a different set of behaviours from them this time around," said Lawrence Creatura, a portfolio manager at Federated Clover Investment Advisors.
Overall, a record 226 million shoppers visited stores or online shopping sites from Thursday through Sunday, up from 212 million last year, according to a survey from retail industry trade group the National Retail Federation. The survey was conducted by online research firm BIGresearch. .
The number of shoppers and the amount of spending surprised analysts who had expected sales to be tempered by a 9 percent unemployment rate, high costs for gasoline and concerns about fiscal uncertainty in Europe.
But it is not at all certain that retailers will be able to keep the momentum going for the rest of the season.
"One swallow does not a holiday season make. After the deepest recession in decades, the solid Black Friday weekend is welcome news, but we're only in the second quarter of a long playoff game," said Craig Johnson, president of consulting firm Customer Growth Partners.
The holiday shopping season that traditionally kicks off on Black Friday -- the biggest day of the year for retailers -- is closely watched by investors as consumer spending accounts for about 70 percent of the U.S. economy.
The National Retail Federation forecast a 2.8 percent increase in sales for the November-to-December holiday season, down from the 5.2 percent increase in the same period last year.
Many retailers opened at midnight or earlier on Thanksgiving, pulling in younger people who were willing to stay up late for deals on electronics and toys instead of getting up before dawn on Friday.
"Consumers have finite cash. If you can be the retailer who gets that cash first, you are likely to be more successful in the holiday selling season," Creatura said.
MACY'S, WAL-MART SCORE

Aside from Best Buy, analysts and investors also named
Macy's
Inc (M.N) and
Wal-Mart
Stores Inc (WMT.N) among those that were strong starters.
Black Friday can be ferocious among shoppers
"Best Buy's success is partially due to locking in compelling exclusive deals, better than
Amazon
's (AMZN.O), and having unique in-store-only offers forcing the visit," Credit Suisse analyst Gary Balter said.
Lee Johnson, 46, shopping at a mall in El Segundo, California, bought a computer at Best Buy on Sunday.
He said online shopping is usually a better idea, but he needed the computer for an employee who is starting tomorrow.
"I just didn't have time."
Fifty million Americans visited online retail sites on Black Friday, representing an increase of 35 percent from a year ago, and online retail sales in the United States on Black Friday jumped 26 percent this year, comScore data showed.
Each of the top five retail websites saw double-digit gains in visitors versus last year, led by Amazon.com. Wal-Mart ranked second, followed by Best Buy,
Target
(TGT.N) and
Apple
(AAPL.O), comScore said.
"Amazon.com once again led the pack, with 50 percent more visitors than any other retailer, while also showing the highest growth rate versus last year," comScore Chairman Gian Fulgoni said.
Amazon has used "every method at hand, old and new to promote their business this holiday season so far," WSL Strategic Retail CEO Wendy Liebmann said, referring to the online chain's promotions in print, online and circulars.
About 122.9 million Americans plan to shop on Cyber Monday this year, up from the 106.9 million who shopped on Cyber Monday in 2010, NRF Vice President Ellen Davis said on Sunday, citing a survey conducted by BIGresearch.
Retailers that opened late or held the line on promotions failed to impress.
"Office supply seemed among the least busy as they opened later and had fewer high-profile deals than in years past," Balter said.
Retailers
Gap
Inc (GPS.N) and
Sears
(SHLD.O) also "need to step up," Customer Growth Partners' Johnson said, adding that he worries the two chains may be too late already as the "horse is out of the barn."
"We would be most cautious on Sears due to their cash flow and serious appliance competition," Balter said. (Reporting by Dhanya Skariachan in NEW YORK, Alistair Barr in SAN FRANCISCO and Lisa Baertlein in LOS ANGELES; Editing by Brad Dorfman, Maureen Bavdek, Diane Craft and Vinu Pilakkott)
© Thomson Reuters 2023 All rights reserved.