U.S. July retail sales to reflect renewed anxiety
NEW YORK, Aug 2 (Reuters) - U.S. retailers look set to report only a modest improvement in sales for July as anxious consumers cut down on their spending and big chains returned to their discounting ways.


Top U.S. retail chains from
Saks
Inc (SKS.N) and
Abercrombie & Fitch
(ANF.N) to
Target
Corp (TGT.N) will later this week report July sales at stores open for at least year.
Analysts are expecting same-store sales to show a 3.2 percent increase, compared with a year-earlier drop of 5.1 percent, according to Thomson Reuters data. Department stores and discount retailers are expected to log the biggest gains.
July would be the 11th straight month of improving sales. But analysts caution that last year's weak figures are easy to beat and that new threats are on the horizon.
U.S. consumer sentiment in July hit its lowest level in nine months on bleak prospects for jobs and income, according to Thomson Reuters/University of Michigan's Surveys of Consumers, suggesting shoppers could become frugal again.
Another blow to retailers' results could come from discounting, which ramped up in June and carried into July.
"The consumer confidence numbers are hideous, and the promotions we're seeing in the malls are pretty intense," said Cowen & Co analyst Laura Champine.
June's discount-driven sales increase may have come at July's expense, Stifel Nicolaus & Co's Richard Jaffe wrote. "We observed retailers taking a more aggressive promotional stance in June, successfully accelerating clearance efforts while likely shifting some sales from July into June."
At Friday's close, the Standard & Poor's Retail Index .RLX had fallen 19 percent from its 52-week high on April 26, worse than the broad S&P 500 index .SPX, on renewed investor fears that consumer spending could stall.
Among the retail stocks that had declined since April 26 were J.C. Penney Co Inc (JCP.N), down 23.9 percent; Abercrombie, 25.4 percent; TJX Cos Inc (TJX.N), 13.3 percent; and Target, 11.6 percent.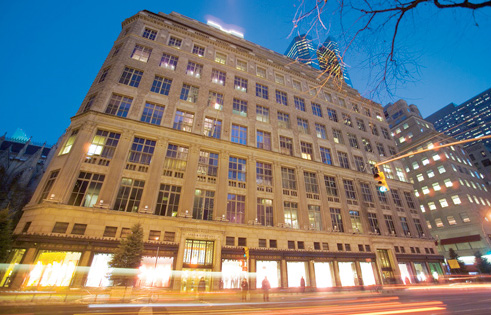 Saks Store U.S.A
WINNERS AND LOSERS
July's biggest sales gains could come from department stores, such as
Macy's
,
Kohl's
Corp (KSS.N) and Penney, and off-price retailers like
Ross Stores
(ROST.O) and TJX, which runs the TJ Maxx and
Marshalls
chains, analysts said.
"Selling department store brands at half off is just a good business model in good times and bad," Champine said.
Department stores have succeeded in improving their fashions to draw shoppers and should continue to build on their recent sales gains, said Global Hunter Securities analyst Richard Hastings. Penney, Macy's and Kohl's have been particularly adept at building up exclusive lines, he said.
Discounters such as Target and warehouse club operator Costco Wholesale Corp (COST.O) probably got a lift in July from shopping for school supplies, said Jharonne Martis, director of consumer research at Thomson Reuters.
Analysts expect discount chains' same-store sales will be up 3.9 percent, and for department stores to report a 5.2 percent increase, Martis said.
The tough economy is also leading many consumers to delay back-to-school shopping until well into August in the hopes of finding good bargains.
That, coupled with a slight overbuild of inventory, could be particularly painful for teen apparel retailers that collectively will show some of the weakest July numbers.
Analysts expect their sales to be up only 2.4 percent after falling 12.1 percent a year earlier.
Teen retailers should get a lift from back-to-school sales, but that will more likely appear in August as consumers hold out to see whether retailers will extend discounts, analysts said.
Champine warned against reading too much into the July results given the typically heavy discounting during the month as retailers clear their shelves for autumn merchandise.
Top retailers themselves have also cautioned that shoppers are still under enormous pressure.
"We're not counting on the economy this year to grow our business," Penney Chief Executive Officer Myron Ullman told Reuters recently. (
Reporting by Phil Wahba; Editing by Michele Gershberg and Lisa Von Ahn)
© Thomson Reuters 2022 All rights reserved.