U.S. retail groups see back-to-school gains
(Reuters) - Parents and students will be spending more this year on back-to-school items, especially clothing, two leading U.S. retail industry groups said in separate forecasts on Thursday.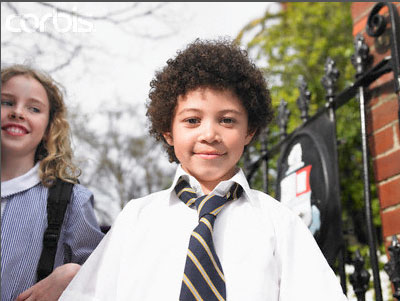 Photo: Corbis Images
The National Retail Federation expects spending during the back-to-school season, which begins in July and runs into September, to rise by 10.5 percent, based on a survey, while the International Council of Shopping Centers forecast a rise of 5.4 percent.
Some of that improvement will come from easy comparisons to the dismal back-to-school seasons of the last two years, but both groups found consumers are able to spend more this year.
"Based on arithmetic alone, the expected July jump in back-to-school spending could be extremely strong," said Michael Niemira, chief economist and director of research for ICSC, saying "fundamental improvement in the consumer economy" would also be an important factor in the improvement.
The ICSC forecast that back-to-school staples such as clothing, shoes and electronics would see the largest gains.
The NRF's 2010 back-to-school survey, which polled about 9,000 shoppers between June 30 and July 7, found that consumers feel that they are better off than a year ago and plan to ramp up their spending accordingly.
The back-to-school period is the second biggest shopping season of the year after the year-end holidays. It is important for names ranging from teen clothing retailer
Abercrombie & Fitch
to discounter
Wal-Mart
Stores Inc which try to benefit from students' shopping sprees as they gear up for a new school year.
A survey released by Burst Media on Thursday also pointed to an uptick in back-to-school spending, with 54.4 percent of the 1,900 adults it polled saying they plan to spend as much or more this year as they did in 2009.
Still, the NRF sounded a note of caution.
"We are encouraged by the fact that parents are eager to start their back-to-school shopping this year, but the industry still remains cautiously optimistic about recovery," NRF's Chief Executive Matt Shay said in a statement.
Shay said retailers will see back-to-school sales as a gauge of consumer appetite ahead of the winter holidays. U.S. retail sales are on track to rise 2.5 percent this year, he told the Reuters Global Retail Summit in June.
FAMILIES STILL BARGAIN-HUNTING
Families with school-aged children will shell out $606.40 on average this year on clothes, shoes, electronics and school supplies, compared with $548.72 last year, the NRF survey found. Total spending on school-aged children in grades K-12 will reach $21.35 billion this year.
However, parents remain concerned about household budgets and are gravitating toward discount retailers. Many are eager to shop for lower-priced, private-label products and will do more research to compare prices ahead of shopping trips, according to the survey.
Teenagers will spend a bit more money this year. They are expected to spend an average of $31.74 for school items, up slightly from $30.88 last year. Pre-teens will spend an average of $18.27, up from $11.94 in 2009.
(Reporting by Nivedita Bhattacharjee in Bangalore and Phil Wahba in New York; Editing by Muralikumar Anantharaman and Tim Dobbyn)
© Thomson Reuters 2023 All rights reserved.