U.S. retailers play catch-up in fashion speed race
After years of losing customers to Europe-based retailers that give young shoppers fresh fashions more quickly, U.S. clothes retailers are fighting back.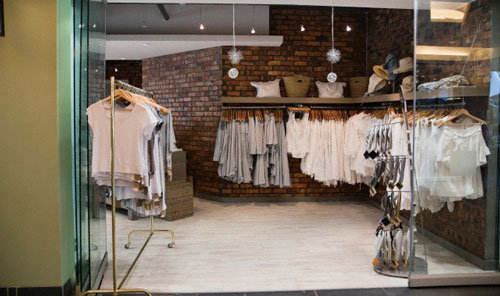 Photo: Corbis
To pick up speed, companies like
Gap
Inc,
American Eagle Outfitters
and
Macy's
Inc are placing smaller orders in more factories, and waiting until the last minute to say what colours and cuts the fabric should take. They are also slashing the time clothes spend in warehouses, industry experts said.
"The millenials, with their constant fickleness in product selection, speed, newness and freshness are very important and so there is a heightened need for traditional American brands to increase speed," said Matt Katz, a partner at the
Boston Consulting Group
, which advises retailers.
Over the past few years, U.S. clothiers have shrunk their typical concept-to-store times down to about six to nine months, from a previously glacial 12 months.
That seems like a big improvement until you know what some competitors are capable of.
"The emergence of
H&M
and
Zara
and the ability of these companies to follow fashion trends and produce products in six weeks or less has added to the pressure," Katz said.
Robert Hanson, American Eagle's new chief executive, is looking for ways to cut down on delivery times and respond faster to styles and trends. Macy's is trying to speed its decisions on what clothes to put on its shelves for young women.
How much further U.S. fashion retailers can go, or should go, in the quest for speed is a question that involves everything from margins to corporate culture and a reliance on cheap but distant Asian manufacturers.
"Traditional brands have a lot of layers of decision making," said Jennifer Pritchard, a former executive with clothes retailer Chico's and now with the Alvarez & Marsal business consultancy in Atlanta.
Companies like
Uniqlo
parent
Fast Retailing
Co, H&M owner Hennes & Mauritz AB, Forever21, and Zara owner
Inditex
, are popularly called "fast-fashion" retailers because of the speed with which they change their collections.
While still a small presence in America, H&M and Zara have doubled their footprint to 1 percent of the fragmented U.S. marketplace, according to Euromonitor International.
The gains have come at the expense of U.S. brands like Gap and American Eagle, which have also struggled with tight margins and consumer resistance to high prices. Both Zara and H&M have overtaken Gap as the biggest clothes retailers in the world.
FAST TACTICS
Insiders say the European companies will often place their designers to work with the manufacturers and make their clothes in countries that are relatively close by, like Morocco, Turkey and Romania.
Such tactics can create completely new "looks" for clothes in weeks.
Even Asian sources of clothes can be part of the fast fashion trend if a clothing line becomes a top seller.
"In Zara's case, they operate chartered cargo flights once a week... from Bangladesh," said Munir Mashooqullah, founder and president of Synergies Worldwide which acts as a middle man between retailers and manufacturers and counts Zara as a client.
U.S. retailers have several plans for fighting back.
American Eagle is planning to cut down on the piles of t-shirts, dresses and jeans that stores have stocked up in the past. Hanson, the CEO, says he would rather have fewer items in stores, but sell everything.
In a conference call last month, Hanson said the company was "buying fashion to sell out", echoing many of his peers.
Macy's said it was planning to speed up decision making on buying and stocking clothes it offers to shoppers between the ages of 13 and 30, an effort clearly aimed at winning young shoppers back from fast fashion chains.
"We today are quicker to respond to trends in brands such as INC and Bar III so that our merchandise is current and fresh for the customer" said Macy's spokesman Jim Sluzewski. Both these brands sell edgy and more fashion-oriented dresses and accessories to young women.
Retail experts say companies like
Ralph Lauren
Corp, Ann Inc, PVH Corp's
Tommy Hilfiger
, VF Corp and
Limited Brands
have made progress as they build relationships with their manufacturers and experiment with newer ways of getting products to their stores.
"Of apparel companies that use their supply chain as a weapon, I put VF right at the top of the list. They understand how to operate multiple brands and take advantage of their size and scale," said Brian Kinsella, senior director of product management for Manhattan Associates, which sells software to help retailers optimize distribution. VF Corp owns brands like
The North Face
,
Timberland
, and 7 For All Mankind.
TYRANNY OF DISTANCE
The sheer distance of China and other Asian manufacturing hubs is a big hurdle that American brands have to overcome.
"Traditional retailers... buy from China because it is cheap to source from there. That means when they have an inventory problem, it takes them nine to 12 months to fix it," said Rahul Sharma, managing director of investment management firm Neev Capital.
But low margins on many items make it hard to consider more expensive sources closer to home.
"Our market place tends to be more promotional," said Rick Paterno, group president of global footwear wholesale at The Jones Group.
Amit Miglani of Nahar Industrial Enterprises, a leading manufacturer for American brands as well as companies like
Topshop
, Zara,
Esprit
and H&M, said U.S. retailers now ask manufacturers to keep stock of more unfinished fabric, and wait for the shopper to tell them which styles and colours the cloth should take, a practice made popular by fast fashion.
U.S. companies are also spreading out their orders, so each factory can turn in their smaller allotment more quickly.
Mostafiz Rahman, who owns a factory in Bangladesh, makes hooded sweatshirts for Gap. "Two years ago they would place orders for about 50,000 hoodies and now that has come down to 15,000-20,000," Rahman said.
Jones Group's Paterno said relationships with manufacturers only go so far in terms of trying to get quicker turnaround.
"It is a problem for some American brands because, frankly, we don't pay as much as European brands," he said.
A CHANGE OF HABIT
But beyond the economics, speeding up is also about corporate culture.
Pritchard, the consultant, said speeding up the fashion cycle requires many changes, from making sure the manufacturers have more accountability to giving the company buyers more responsibility.
"A lot of the traditional brands are going to have a tough time implementing it and getting their hands around it because they have to have a commitment from the very top of the organization," she said.
Mashooqullah, the apparel sourcing agent, made similar observations, saying the old American retailers are too structured to make last-minute changes.
"Traditional brands need to have a much shorter communication line between the seller and the buyer. They need to allow at least some buyers to make decisions outside of the structure. That is the key," he said.
© Thomson Reuters 2023 All rights reserved.