UK to relax Sunday trading rules over Olympics
March 17 - British retailers will be able to cash in on the influx of tourists visiting the Olympics this year, with the government set to relax Sunday trading laws during the games, in a move it hopes will deliver a 90 million pound boost to stores.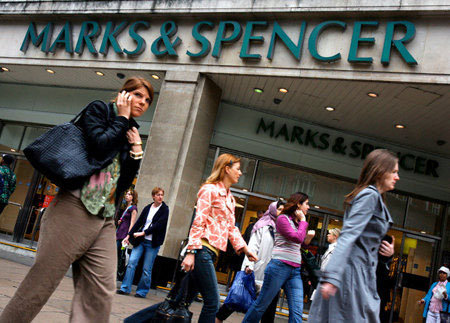 Pedestrians walk past a Marks & Spencers store in central London (Photo: Corbis)
The measure, which a Treasury source said was expected to be unveiled by Finance Minister George Osborne in his March 21 budget, will give a much-needed shot in the arm to Britain's beleaguered retailers, many of which have struggled over the last year as consumers have tightened their belts.
It should also help to invigorate Britain's economy, which has endured a choppy recovery from the 2008/09 recession and is only just starting to show signs of a pick-up.
Under current laws, large stores in England and Wales can open for only six hours on a Sunday. From July 22, shops will be permitted to extend their opening hours on the eight Sundays during the Olympics and Paralympics.
The move is part of a broader push by government to find ways to capitalise on the 2012 Olympics, which London is hosting at a cost to the taxpayer of more than 9 billion pounds ($14.26 billion)- a hefty sum as the government battles to control the nation's debts.
Officials also hope that extending Sunday store opening hours during the Olympics will make life easier for the hundreds of thousands of visitors expected to attend the games.
Retailers in the capital's West End shopping district estimate that letting stores trade for an extra four hours would allow an additional 100,000 people to shop, yielding more than 8 million pounds over the Olympic period.
The boost to retailers' profits in England and Wales as a whole is estimated at 90 million pounds, according to economic consultancy Independent Cost Benefit Analysis.
MUCH-NEEDED TONIC
The prospect of an Olympic sales boost will by welcomed by Britain's retailers, whose profits have flagged as consumers grapple with high inflation, muted wage growth, government austerity measures, worries about job security and a stagnant housing market.
Recent retail sales data have been mixed: an industry survey earlier this month showed retail sales values dipped in February compared with a year ago, while official retail sales volumes data for January were unexpectedly strong.
Policymakers reckon that a slowdown in inflation during 2012 will alleviate the squeeze on household finances and give a boost to consumer spending. However, with unemployment still at a 16-year high, any pick-up in consumer demand could be some time coming.
Updates from four of Britain's biggest retailers next week will reveal the strength of consumer spending, with Kingfisher , Europe's biggest home improvement retailer, Next , Britain's second-largest clothing retailer, Debenhams , the nation's second-largest department store operator, and J Sainsbury, its third-largest grocer, all set to report.
Large retailers stand to benefit most from the temporary relaxation of the Sunday trading laws, as small shops are not covered by the regulation.
Britain's biggest department store chain John Lewis said earlier this month that is was "cautiously optimistic" about the outlook for 2012, believing that Queen Elizabeth's Diamond Jubilee celebrations and the Olympic and Paralympic Games would help stimulate trade.
But small shops, many of which are family-owned, have lobbied against extending Sunday opening hours amid concerns they could lose business to big retail chains.
"If government makes this concession this time the big retail lobby will be pressing for all sorts of exemptions for other events during the year and the whole principle will be undermined," James Lowman, chief executive of the Association of Convenience Stores, said last week.

(Additional reporting by Michael Holden and James Davey; Editing by Karolina Tagaris)
© Thomson Reuters 2023 All rights reserved.