UK young designers say London's it for creativity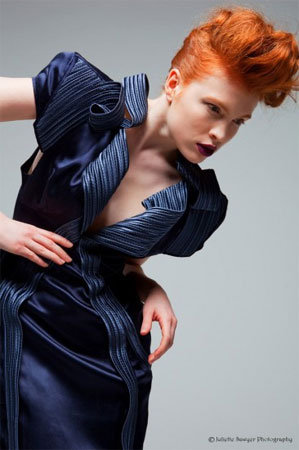 Lilee, London College of Fashion. Photo : Juliette Sawyer
(Reuters Life!) - As London Fashion Week comes to a close, young designers remain adamant that Britain's capital is still the best place to get into fashion, with ethical concerns put at the center of many new collections.
Charles Jeffrey is in his second year of studying fashion design with marketing at Central St. Martin's College of Art and Design.
The 20-year-old says that whilst his favorite menswear collections are in Paris, he wouldn't want to study fashion anywhere else.
"London is a creative hub, this is where you come for ideas, where people push the boundaries," he said.
Despite the economic recession, the fashion industry is still going strong, with a recent report by the
British Fashion Council
valuing its contribution to the UK economy at 21 billion pounds. That makes it the 15th largest British industry out of 81, similar in size to the food/beverage services and telecommunications industries.
The industry also directly employs around 816,000 people, making it the second biggest employer in the country.
David Longshaw is a new designer on the British scene. After graduating from St. Martin's and completing his Masters at the Royal College of Art, he was immediately poached by Italian designer Alberto Ferretti and taken to Milan.
He returned to England last year to start his own label, which was quickly picked up as one of Vauxhall Fashion Scout's Ones To Watch.
This Fashion Week, his new collection is being shown as part of the exclusive BFC/ELLE Talent Launchpad. He says that although he was happy to go abroad to gain more experience in the industry, London is unrivalled in its attitude to young designers.
"There is an excitement about them here. People actually come here to look for something edgier, something new. They come here to see what the next big thing is," Longshaw said.
It could be partly to do with their willingness to explore the next frontier for the industry: eco-fashion.
This year, a massive space called Estethica was dedicated to the concept within Somerset House, the main arena for London Fashion Week.
Estethica began only four years ago, but already boasts 30 designers who subscribe to its values of sustainability. The BFC initiative promotes alternative choices that can be made at various stages of the production process, including intelligent design, locally sourcing materials, and recyclable products.
Alice Ashby is another St. Martin's graduate. She is part of a new label called The North Circular, pioneered by models
Lily Cole
and Katherine Poulton. It aims to provide the essential winter chunky knitwear, but with a twist.
Their large-knit scarves and cardigans are hand-made by older women from across Britain, and modeled by the likes of Cole and
Milla Jovovich
, giving them the tagline "Knitted by grannies, supported by supermodels'. They even source their wool from rescued sheep from a sheep sanctuary in North Yorkshire.
The importance of an eco-friendly fashion footprint has clearly not escaped the attention of up and coming designers like Longshaw.
"Ethical design is important for the planet, but for young designers it's becoming even more important, partly because there is this sense of needing to do something, but also because shops and customers are starting to look for it," he said.
(Editing by Paul Casciato)
© Thomson Reuters 2023 All rights reserved.