Unibail-Rodanco has successfully raised €500 million
The European commercial real-estate specialist Unibail-Rodanco, which launched on the 21st of April a programme of bonds with the option of repayment in cash and new or existing shares for a total of €500 million, has announced that the private investment "has been a success" with orders totaling more than €4.5 billion – an over subscription of nine times more than expected in a period of less than two hours, the majority coming from long term investors.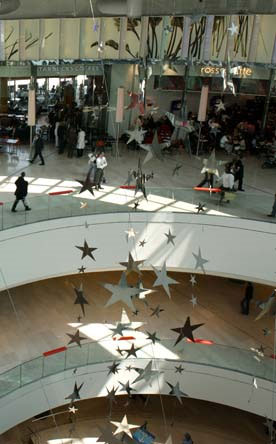 Les Quatre Temps shopping centre, La Defense, Paris (Photo - www.unibail.fr)
Unibail-Rodanco stated in a press release that its bonds will expire on the 1st of January 2015, "therefore allowing the maturity of the debt of the group to extend".
Also, the funds raised by this operation will allow the group to respond to its general financial needs and sustain existing and future development projects.
By Jonathan Fulwell (Source: Sarah Ahssen)
Copyright © 2023 FashionNetwork.com All rights reserved.