US retail sales fall again in April
By Lucia Mutikani
WASHINGTON (Reuters) - Sales at U.S. retailers fell for a second straight month in April as cash-strapped consumers held back on purchases, government data showed on Wednesday 13 May, denting hopes the economy would soon emerge from recession.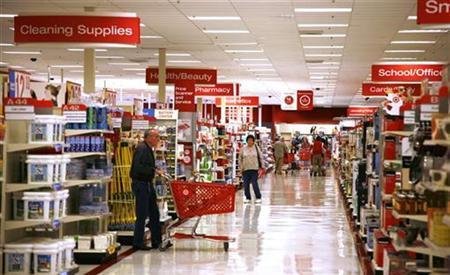 The Commerce Department said retail sales slipped 0.4 percent after falling 1.3 percent in March.
Sales dropped despite an increase in the disposable income of some households due to tax cuts and cash transfers linked to the government's record $787 billion (519 billion pound) stimulus package.
Analysts said U.S. householders, whose wealth has been decimated by plunges in house and stock prices, likely decided to save the extra income or pay off debt instead of spending it. Economists had expected sales to be flat.
"The 'green shoots' talk was premature. There are some preliminary signs (of improvement) in certain areas of the financial markets but in terms of the real economy, we are still a long ways off," said Brian Bethune, chief U.S. economist at IHS Global Insight in Lexington, Massachusetts.
U.S. stocks, which had rallied in recent weeks on perceptions the 17-month-old recession was close to a bottom, fell, closing 2 to 3 percent lower.
Losses were led by retail shares, with the Dow Jones retail index .DJUSRT dropping 2.8 percent, while manufacturers, home builders and commodity companies stumbled also.
The Dow Jones industrial average .DJI fell 184.22 points, or 2.18 percent, to 8,284.89. The Standard & Poor's 500 Index .SPX lost 24.43 points, or 2.69 percent, to 883.92. The Nasdaq Composite Index .IXIC gave up 51.73 points, or 3.01 percent, at 1,664.19.
Incomes have also been weighed down by high unemployment, forcing consumers to limit spending mostly to necessary purchases. That has hit companies such as department store operator Macy's (M.N) and apparel maker Liz Claiborne Inc (LIZ.N), which both reported quarterly losses on Wednesday 13 May.
CONSUMERS NOT SPENDING
Commerce Secretary Gary Locke said the fall in sales, despite some improvement in consumer sentiment, showed "just how difficult the economic environment remains".
Excluding motor vehicles and parts, retail sales dipped 0.5 percent in April, compared to a 1.2 percent decline the prior month, the Commerce Department said. Vehicles and parts sales rose 0.2 percent after a 2.0 percent plunge in March.
"Consumers still haven't decided to start spending money and the economy is still in a funk. Folks are very focussed on non-discretionary items, buying staples, and people are trying to deleverage themselves," said Bob Duffy, leader of global advisory firm FTI's Retail Practice.
Gasoline sales dropped 2.3 percent in April after tumbling 3.2 percent in March. Sales of electronic goods fell 2.8 percent, while building materials rose 0.3 percent.
The data suggested that consumer spending, which accounts for about 70 percent of U.S. economic activity, will probably fall in the second quarter, analysts said. Spending had risen at a 2.2 percent annual rate in the first quarter after a 4.3 percent plunge in the final three months of last year.
Recent economic data, including housing and labour market reports, had raised cautious optimism that the recession was close to ending, with a slow recovery pencilled in to start in the second half of the year.
A Reuters survey published on Wednesday 13 May predicted the U.S. economy would grow at an annual rate of 0.5 percent in the third quarter after contracting an expected 1.8 percent in the second quarter. For more see ID:NLC811637.
"The (retail) report is a reminder of the challenges that face U.S. consumers and the likelihood that the U.S. will experience subdued economic growth at best for quite some time," said Tony Crescenzi, chief bond analyst at Miller Tabak & Co in New York.
In another report, the Commerce Department said business inventories fell 1.0 percent in March after a 1.4 percent fall in February as stocks of unsold motor vehicles fell 2 percent.
Last month, the government said the economy contracted at a 6.1 percent annual rate in the first quarter, dragged down by a record $103.7 billion plunge in inventories.
The latest monthly inventory figure was likely to see U.S. gross domestic product estimates revised up to show a decline of about 5.5 percent in the first quarter, analysts said.
In another report on Wednesday 13 May, the Labour Department said import prices rose 1.6 percent in April, a second straight monthly increase.
Nonetheless, import prices on a year-over-year basis plunged a record 16.3 percent in a sign that inflation is unlikely to be a short-term problem in view of relatively weak global demand.
Separately, mortgage applications slipped to the lowest since mid-March, driven by a drop in requests to refinance loans even as borrowing costs dipped towards record lows last week, according to the Mortgage Bankers Association.
(Additional reporting by Glenn Somerville; Editing by James Dalgleish)
© Thomson Reuters 2023 All rights reserved.