US retail sales up, economic recovery seen intact
By Lucia Mutikani

WASHINGTON, April 14 (Reuters) - Sales at U.S. retailers rose more strongly than expected in March, pointing to a broadening of the manufacturing-led economic recovery as inflation pressures remained muted.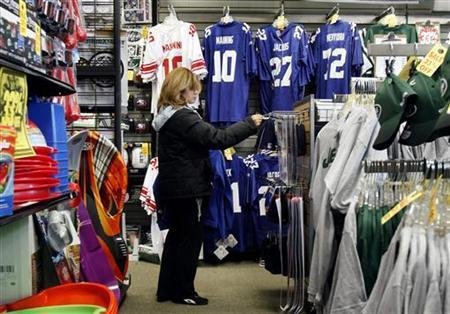 The retail sales report on Wednesday 14 April painted a picture of consumer defiance in the face of high unemployment and tight access to credit and was the latest in a series to suggest a strengthening in domestic demand.
"The consumer has come back strong, likely due to pent up demand after a tough retrenchment, and now we need job growth and income growth to sustain the strength because access to credit will still remain muted," said Peter Boockvar, equity strategist at Miller Tabak & Co. in New York.
Total retail sales jumped 1.6 percent, the largest increase since November as consumers stepped up purchases of vehicles and wide range of goods, the Commerce Department said. January sales were revised up to a 0.5 percent rise from 0.3 percent.
Financial markets had expected retail sales to increase 1.2 percent last month.
Separately, Labor Department data showed consumer prices rose 0.1 percent last month, matching economists' expectations for a tame reading and giving the Federal Reserve leeway to maintain ultra-low interest rates.
U.S. stock indexes rose on the upbeat retail sales report, while U.S. Treasury debt prices were steady.
The resilience in spending is offering hope that the recovery from the worst economic downturn in 70 years will continue when the lift from government stimulus and the swing in the inventory cycle ebbs.
Growing confidence in the recovery, particularly brightening job market prospects, is encouraging households to tap into the savings to fund purchases of goods, including luxury items.
STRENGTHENING DEMAND
Strengthening domestic demand is forcing businesses to start restocking. Business inventories increased 0.5 percent in February, the largest advance since July 2008, to their highest level in seven month, the Commerce Department said in a second report.
Despite indications the recovery may be gaining momentum, Federal Reserve Chairman Ben Bernanke remains cautious.
"Significant restraints on the pace of the recovery remain, including weakness in both residential and nonresidential construction and the poor fiscal condition of many states and local governments," Bernanke told the Joint Economic Committee in prepared remarks.
The U.S. central bank has pledged to keep its benchmark interest rate unusually low for an extended period to nurture the recovery.
Sales in March were buoyed by a 6.7 percent surge in motor vehicle and parts purchases, after dropping 1.9 percent in February. The increase last month was the biggest rise since October.
Excluding motor vehicles and parts, retail sales rose 0.6 percent in March after rising 1.0 percent the prior month as a combination of an early Easter holiday and warm weather boosted receipts at clothing stores.
Core retail sales, which correspond most closely with the consumer spending component of the government's gross domestic product report, rose 0.5 percent after increasing 1.2 percent February.
Even as spending gathers momentum, there are no signs of inflation picking up.
Core consumer prices, which exclude volatile food and energy prices were unchanged in March after rising 0.1 percent in February, the Labor Department said. Economists polled by Reuters had expected a 0.1 percent rise in core
CPI
.
"There's no inflation in the economy because we have still a lot of slack in the work force and wages are not going up materially. Retailers cannot pass on higher costs to consumers," said Bernard Baumohl, chief global economist at The Economic Outlook Group in Princeton, New Jersey.
Clothing and clothing accessories sales increased 2.3 percent, while building materials and garden equipment climbed 3.1 percent - the largest advance since November 2007.
Receipts at sporting goods, hobby and book stores rose 1.0 percent in March. Sales at electronics and appliance stores, however, fell 1.3 percent and receipts at gasoline stations slipped 0.4 percent. (Additional reporting by Emily Kaiser in Washington and Richard Leong in New York)
© Thomson Reuters 2023 All rights reserved.