Vertu rings till for British-made luxury goods
By Tahani Karrar
CHURCH CROOKHAM (Reuters) - Down a winding English lane, straight out of the backdrop of a TV period drama, is a factory that is as rare today as the products it makes -- "Made in Britain" luxury goods.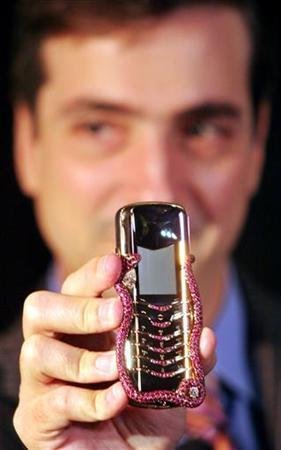 Beyonce, Donald Trump and Ferrari Chief Executive Jean Todt are owners of the gem-encrusted cell phones assembled on site by lab-coated artisans and retailing at up to 270,000 euros ($372,000) a pop.
Luxury cell phone group Vertu's commitment to manufacturing in Britain stands out as many older British luxury goods firms shift their production to cheaper factories in Eastern Europe and the Far East.
The added twist is that Finnish telecommunications giant Nokia is behind the operation.
"Leaving Britain is not on the cards," Alberto Torres, president of Vertu, told Reuters.
"A lot of brands are moving offshore, but for us the quality and the ability to have all of the business together is a lot more important than the price of manufacturing."
While lobbyists in their respective countries have promoted "Made in Italy" and "Made in France" for decades, goods "Made in Britain" have lacked enough vocal defenders as the country's manufacturing industry declined in the 1980s and 1990s.
As recently as March this year Burberry closed a factory in Treorchy in Wales making its polo shirts, moving production to cheaper manufacturing sites in Poland and Hong Kong.
RUSSIAN PLAYGROUND
London's emergence as an international financial capital and a playground for monied Russian and Middle Eastern visitors has raised the profile and demand for British luxury brands.
The problem is, executives say, they now have trouble finding manufacturers.
"We'd like to make more of our products in England because the brand is there, but we can't, because the artisanship has gone. You can't find people with the skills any more even if you want to," said one fashion executive with a well-known English luxury brand, speaking on condition of anonymity.
There are a few survivors, this executive said.
She noted cashmere mills in Scotland, Irish linen weavers and raincoat makers like Cooper & Stollbrand in Manchester -- a city whose wealth was built by its mill owners and textile workers in the 19th century.
Pringle, under the direction of designer Clare Waight Keller, has seen some success from returning to its roots in the shape of a hand-knitting factory in Hawick in Scotland.
Heather grey cable knit sweaters made there, and costing 795 pounds ($1,600) each, sold out last winter and Pringle staff couldn't knit fast enough to fill the waiting list.
Yet Britain is also developing a market for 21st-century luxury goods, partly growing from its status as a melting pot of international talent.
Vertu is one of the more pronounced examples of the remaking of luxury manufacturing in Britain, allowing it to play a greater part in the spending habits of the world's wealthiest people.
Those high net worth individuals held assets worth $32.7 trillion last year, according to the Cap Gemini/Merrill Lynch 2007 World Wealth Report.
DIAMOND ENCRUSTED
At the Vertu workshop, which opened in 1998, 350 workers from countries as diverse as Yugoslavia, Cameroon and China pool their skills to produce phones robust enough, say its makers, to withstand a collision with a speeding Porsche.
That's in addition to encrusting them with diamonds, rubies, sapphires and platinum.
"We want to be known for craftsmanship not just putting diamonds on mobile phones," said Torres, a Venezuelan of Spanish origin.
"England is one of the places which tends to attract the top international designers. On the manufacturing side, there is a tradition of high quality."
Raw materials used to build the phones -- from gems to top- grade European leathers -- are brought in by vans. They leave with shipments for the United States, Europe, China, Russia, India and London's best-known department stores.
It takes up to three years of in-house training to be able to fully assemble one of Vertu's Signature phones, glinting with gems, that sits in the hand like a regular Nokia cell.
Nokia won't break out Vertu's earnings but says its operating margins in 2006 were 7 percent higher than the parent company.
Last year Vertu's production increased by 140 percent. This year it is on track for over 100 percent growth.
Guy Salter, deputy-chairman of British luxury goods association Walpole, sees Vertu's decision to keep operations in Britain as a boon for the sector.
"The British luxury industry as a whole has never been more vibrant and more creative," Salter said.
"Vertu's obsession with quality is a welcome sign that luxury goods brands are rediscovering the value that the customer places on authenticity."
(Additional reporting by Rachel Sanderson)
© Thomson Reuters 2023 All rights reserved.