Vietnamese suffer "sticker shock" as inflation rises
By Grant McCool
HO CHI MINH CITY (Reuters) - Every time Vietnamese factory worker Nguyen Thi Ha goes to the supermarket, she finds that prices on the shelves have climbed, evidence of a country facing its highest inflation rate in more than a decade.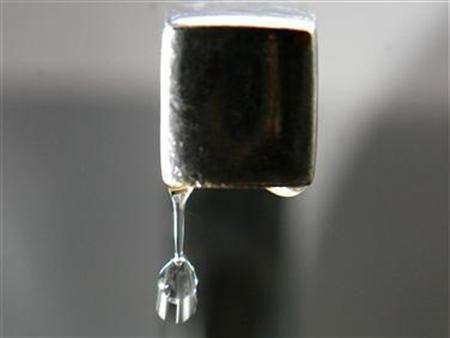 Vietnamese are suffering from "sticker shock" as inflation hit 12.6 percent in December, driven by higher prices of food, fuel and construction material. The rise was the highest in a decade and well above the trend in other emerging markets in Asia.
"Prices go up all the time but wages only go up once a year," Ha, 32, who earns less than $200 a month, remarked while standing at the meat counter of a supermarket where pork ribs were being sold for 70,000 dong ($4.35) per kg. They cost 50,000 dong ($3.10) per kg two months ago, an increase of 40 percent.
Rising prices are presenting a major challenge to a Communist Party government pushing headlong with the transition to a market economy, much like its giant northern neighbor China did.
Thousands of workers at textile factories owned by U.S., South Korean and Taiwanese companies have gone on strike in recent months in and around the largest urban area of Ho Chi Minh City, demanding higher wages to keep up with inflation.
The government's regular increases in minimum wages have been wiped out by soaring consumer prices. Investors are opting for gold through purchases of gold bars and futures and some workers are asking for their salaries to be pegged against gold.
Economists said double-digit inflation is a cause for concern because it means the poor would eat less food in a country that has an annual per capita income of only $835 but prides itself on reducing poverty in the past decade.
WEALTH GAP
The government, committed to "market-oriented socialism with Vietnamese characteristics," is sensitive about the growing gap between rich and poor.
By its own estimates, the most affluent 20 percent of the population is seven times better off than the poorest two percent.
"The problem for the government is to convince the poor that they are benefiting from the eight percent economic growth," said Jonathan Pincus, senior economist at the United Nations Development Programme in Hanoi.
Pincus and others, notably the International Monetary Fund, have urged the State Bank of Vietnam, the central bank, to rein in credit growth. Bank lending surged 37 percent last year but the government has been reluctant to raise interest rates.
Government economists cite an infusion of U.S. dollars through overseas remittances and foreign investments as a big contributor to inflation, forcing the central bank to buy back dollars to contain the value of the dong.
"We need a good policy to withdraw the dong from circulation," said Tran Du Lich, chief economist of the Institute for Economic Research of Ho Chi Minh City, a think-tank for the economy of the city that most still call by its old name Saigon.
"The government is well aware of the reasons for inflation and the way to solve it is to use multiple solutions, including monetary measures," said Lich, who is a member of the one-party National Assembly, or parliament.
In one anti-inflationary measure, the central bank on January 16 ordered banks to keep their reserves at 11 percent of their dong and dollar deposits of up to 12 months, up from 10 percent.
Late last year, the central bank already tweaked its currency policy, allowing the dong to appreciate against the U.S. dollar.
CURRENCY APPRECIATION
A Singapore-based Asian economic analyst with Hong Kong and Shanghai Banking Corp said it expected a 1 percent appreciation of the dong to the dollar in 2008 and 2 percent in 2009.
"This would allow inflation to temper as our analysis suggests that a 1 percent appreciation of the dong versus the U.S. dollar should shave off above 1-1.5 percentage point from inflation over a 12-month period," analyst Prakriti Sofat said.
Factory workers and the elderly, the people most affected by the steep rise in prices, would welcome some relief as their purchasing power for essential items has been severely reduced.
Many workers in the 14 industrial parks in and around Ho Chi Minh City earn only about 1.5 million dong ($93) a month.
Uuang My Dung, 50, runs a sidewalk restaurant in an area of the city where laborers rent rooms and toil in textile and shoe factories or as porters in Saigon Port.
Dung serves basic meals of rice, pork and vegetables. She charges 13,000 dong (80 U.S. cents), compared with 8,000 dong (50 cents) last year.
On her narrow street, faded store awnings are covered in dust and grime. Cars, motorbikes, bicycles and market handcarts compete for space, typical of the city where population estimates vary widely between 6 million and 11 million people.
On average, Dung says she ekes out about 160,000 dong ($10) a day, bearing the increasing cost of rice at the street market. It costs her 7,000 dong (44 U.S. cents) per kg compared with 5,000 dong (31 U.S. cents) per kg last year.
"People are trying to save money but it's almost impossible to avoid paying more," Dung said.
($1=16,106 dong)
(Additional reporting by Nguyen Nhat Lam; editing by Megan Goldin)
© Thomson Reuters 2021 All rights reserved.