Watchmakers target female market with complex pieces
BASEL - Traditionally dominated by timepieces for men looking to show off their status with a Rolex or Omega, the $21 billion Swiss watchmaking industry is starting to design intricate watch movements for the neglected female market.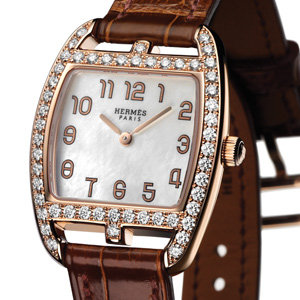 Hermès - Cape Cod Tonneau Gem-Set Rose Gold
Until recently, the women's market was mostly focused on simple quartz watches for under 1,000 Swiss francs or luxury diamond-encrusted pieces with mind-blowing price tags.
But Swiss watchmakers at the Baselworld fair said they were now taking pains to design new collections of mechanical watches for women, especially as they will often buy more pieces than men as fashion changes, making them a lucrative customer base.
Tag Heuer (LVMH.PA), aiming for sales of around 1 billion Swiss francs this year, said it hopes to increase the proportion of its sales accounted for by women's watches to 40 percent from 30 percent.
Chief Executive Jean-Christophe Babin said there was little competition in the 1,000-10,000 Swiss francs price range.
"There is a lot of potential," Babin told Reuters at the fair. "In a lifetime, if you can sell two or three luxury watches to a man, you can sell between five and ten for a lady."
La Montre Hermes, part of handbag maker Hermes (HRMS.PA), said women were increasingly interested in mechanical watches -- which are driven by a spring as opposed to electronically -- but appreciated them for different reasons to men.
"For men, it's all about the technical aspects, while women appreciate the craftsmanship," CEO Luc Perramond said as he presented the watchmaker's two new in-house movements - one for men's watches, one for women's.
Fashion house Chanel's watch division also believes that for women simply knowing they have a complicated piece of engineering on their wrist is a pleasure these days.
At Basel, it unveiled a limited edition of its Premiere watch with a complicated flying Tourbillon mechanism. Usually exposed on a watch face to show it off, Chanel has instead chosen to hide the workings behind a camellia-shaped design.
Independent Ulysse Nardin says women's watches now make up a third of its unit sales, up from just 5 percent 12 years ago, and that the fashion for larger watches now means it can fit its complicated calibres into designs for women.
Watchmakers have also broadened the range of materials they use in response to growing demand from women. Mother of pearl, enamel and even feathers were featured on watches on display at the vast Baselworld watch fair.
The amount of business to be had from men looking to buy a perfect gift, who are more familiar with watches than jewellery, should also not be underestimated, said Tag Heuer, whose ladies watches mostly fall within the 2,000-6,000 Swiss franc range.
Swatch Group's (UHR.VX) Omega, whose Seamaster watch was worn by Daniel Craig in the role of James Bond in Quantum of Solace, relaunched the 1950s-styled Ladymatic in 2010 and says it is now among its top five best-selling watches worldwide.
"Demand is so high that some stores haven't received any yet as we can't produce enough," Omega president Stephen Urquhart told Reuters.
(Reporting by Victoria Bryan, editing by Paul Casciato)
© Thomson Reuters 2023 All rights reserved.