West Hollywood nears approval of first fur ban in U.S.
WEST HOLLYWOOD, California | Sat Oct 1, 2011 - Taking a stand for animal rights over fashion, the tiny, tony municipality of West Hollywood is poised to become the first U.S. city to ban the sale of fur clothing within its boundaries.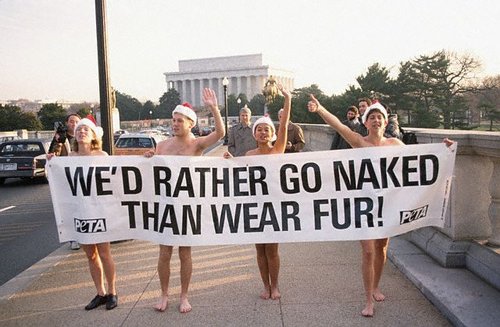 Naked demonstrators protesting fur / Photo: Corbis
The five-member City Council voted unanimously on September 20 to give tentative approval to the ban, and the panel is expected to officially adopt the measure at a meeting next Monday.
Opponents say nearly half of the 200 apparel stores in town sell at least some fur items, and that merchandise made with animal pelts is estimated to account for up to $2 million in revenues for those businesses this year.
One of the leading critics of the proposed ordinance is the Fur Information Council of America, an industry trade group that happens to be based in West Hollywood.
But the city's famously left-leaning political establishment seems intent on fully embracing an animal rights cause that has largely been the domain of angry, sign-waving protesters outside shop windows.
Some details of the ordinance, including civil penalties that would be imposed against merchants caught violating it, remain to be worked out at Monday's meeting, supporters say. Also unclear was how it would be enforced.
As tentatively approved last Tuesday, the measure would outlaw the sale of any garment made "in whole or part from the pelt or skin of an animal with its hair, wool or fur," and would take effect on June 30, 2012.
The bill cites as explicit examples furs made from a fox, mink, rabbit, bear, seal or chinchilla. Supporters said the council is considering an exemption for "vintage" garments containing fur.
FUR FLIES AGAIN
Wedged between Beverly Hills and Los Angeles, the city of West Hollywood is best known for its high quotient of nightclubs, restaurants and gay men and lesbians among its 35,000 residents. Its vibrant shopping scene is patronized by everyone from movie stars to vintage clothing hounds, and retailers say fur is just part of the package.
Opponents of the proposed fur ban also say it flies in the face of the city's tolerant, live-and-let live attitude.
"It's not the city's role to dictate to businesses what they can or cannot sell," said Genevieve Morrill, the CEO and president of the West Hollywood Chamber of Commerce.
Fur clothing has been controversial for decades, with opponents saying animals are inhumanely killed for their pelts. The federal government requires correct labeling of most fur garments, so consumers know what they are buying.
West Hollywood's proposed fur ban is not the first action city officials have taken on behalf of four-legged creatures. In 2010, the town banned the sale of dogs and cats from pet stores in an attempt to strike a blow against the puppy mill industry.
By then, the city already had gained attention for banning the declawing of pet cats, in an ordinance that was challenged by the veterinary industry and eventually led to passage of a California state law preventing cities from adopting similar measures.
The city in 1996 also passed California's first ban on so-called "Saturday night specials" -- inexpensive pistols seen as contributing to impulsive gun crimes.
City Councilman John D'Amico, the chief sponsor of the fur sales ban, said it would distinguish West Hollywood not only from its neighbors, but from the rest of the country.
"West Hollywood will be a special place, much more special than Los Angeles and Beverly Hills," D'Amico said. "Now it will be the only city in the nation that's fur free."
His claim was confirmed by the Fur Information Council of America.
Despite years of protests against fur clothing by animal rights activists, consumers are still flocking to fur. Total sales nationally last year rose 3.1 percent to $1.3 billion, according to the industry group.
Animal rights activists hope a ban by West Hollywood could fuel their campaign.
"This is a sea change for the animal welfare movement," said Ed Buck, an organizers with the group Fur Free WeHo.
"We've gone from standing on sidewalks, pointing out the problem, to walking into the halls of power and showing what the solution is," he said.
(Editing by Alex Dobuzinskis and Steve Gorman)
© Thomson Reuters 2022 All rights reserved.