Will Buckle buck the trend yet again?
BANGALORE, Aug 25 (Reuters) - Buckle Inc (BKE.N) outshined most of its peers in the latest quarter, when on Thursday 20 August it posted a 14 percent rise in sales and a profit that exceeded Wall Street targets.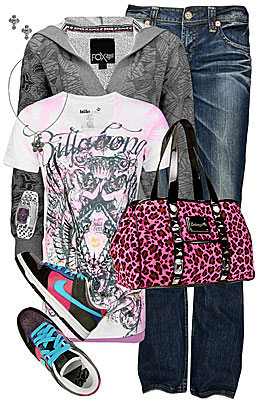 "I Dream of Jeans" outfit at Buckle.com
However, the company, which partly boosted its margins through price hikes, is expected to face tougher comparisons as it enters the second half of the year.
Buckle's same-store sales have been losing steam since May, when it reported a 13.4 percent rise.
But the stock is still trading at about 10 times forward earnings compared with 26 times earnings for the apparel sector as a whole, and the retailer is still generating high margins in a sector burdened by markdowns and soft sales.
So is the still-cheap valuation reason enough to buy the stock or is a potential margin contraction asking to sell?
BUY WHILE YOU CAN
"It still is the cheapest stock in our group, particularly with the bottom-line growth rate and the returns they have," Laura Champine, chief financial analyst at Cowen and Co, said.
Champine, who has an "outperform" rating on the company, said the retailer can maintain its operating margins above 20 percent, given its lean cost structure and varied assortment.
Kearney, Nebraska-based Buckle offers a compelling mix of third-party brands like Guess, Silver Jeans and Fossil, besides its private label BKE, to comparatively unsaturated markets.
This, she said, gives the company an edge over larger peers like Aeropostale Inc (ARO.N) and American Eagle Outfitters Inc (AEO.N).
"They are not in New York, they are not in Boston. They are in mid-America markets, offering a diversity of styles. I think that's part of the reason that they can continue to put up better-than-peer-average sales numbers."
MARGINS UNDER PRESSURE?
Analyst Adrienne Tennant of FBR Capital Markets also forecast operating margins of over 20 percent this year, but warned that the retailer is inching towards more challenging months.
The analyst, who downgraded the retailer to "underperform" after its recent comp sales miss, also said that it is trading at peak operating margins.
"Right now, margins are still very healthy, and valuation looks good. But investors tend to exit a name if there is margin contraction, or even if it's a name that has the risk of potential margin contraction," Tennant said.
The company has also been driving business with price increases in a time when the consumer has been especially sensitive to price-tags, and "when you drive your sales with price increases, there comes a limit at which the consumer is no longer willing to spend more," she said.
"Much of the sales increase has been coming from a continuing ability to increase prices. Without this boost, the company's sales upticks look significantly weaker," Tennant said in a note after the company posted results. (Editing by Anil D'Silva)
© Thomson Reuters 2022 All rights reserved.