Will J.C. Penney emerge stronger from the downturn?
By Aarthi Sivaraman
NEW YORK, April 17 (Reuters) - J.C. Penney Co Inc's (JCP.N) shares are up 36 percent so far in 2009, with most of the gain coming after it surprised Wall Street and investors with a smaller-than-expected drop in March same-store sales.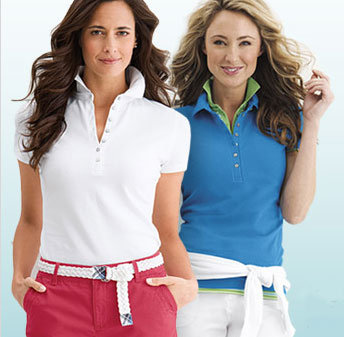 Women's Polos at J.C. Penney
Still, the U.S. department store chain is no stranger to the deep cutbacks in consumer spending that have hurt retailers during this recession.
In 2008, Penney saw sales drop 6.9 percent, while its $2.57 per-share profit was nearly half what it earned a year earlier. Its shares fell roughly 55 percent in 2008.
The Plano, Texas-based retailer has stressed that unique brands and attractive prices are key in convincing shoppers to spend in its stores. To that end, it has exclusive clothing lines such as Fabulosity by Kimora Lee Simmons and nicole by Nicole Miller, as well as private brands such as American Living from Polo Ralph Lauren Corp (RL.N).
The efforts could be paying off. Penney now expects a smaller per-share loss of 5 cents to 10 cents for the first quarter, including a pension expense. It gave that forecast earlier this month when it said March same-store sales declined a less-than-expected 7.2 percent.
But Standard & Poor's cut its ratings on Penney to junk territory on Thursday, citing concerns about the economy's impact on department stores.
Ahead of its annual analyst meeting on April 22, a looming question remains: Has Penney struck a positive note with Wall Street and shareholders? Or are its efforts falling flat?
CONFIDENCE IN PENNEY
Tony DeSpirito, a portfolio manager for Pzena Investment Management in New York, considers Penney one of the long term winners in the sector. Pzena owns around 16.3 million Penney shares and had $8.6 billion of assets under management as of March 31.
DeSpirito said Penney's push to have exclusive and private brands, possibly lower capital expenditures and its chance to capture market share were encouraging factors.
"That's being masked by the fact that we are in the middle of a really rough economic cycle," DeSpirito said. "All retailers are struggling in this environment, but I think here is a company that is poised to gain share throughout that downturn and maybe even come out stronger because you have a chain like Mervyn's, for example, go away."
Earlier this week, S&P analyst Jason Asaeda raised his rating on Penney to "hold" from "sell," citing its March sales as one of the main drivers of his revision.
"They are definitely (heading) in the right direction," Asaeda said. "You see some of the newer brand launches, diffusion lines of brands sold at better stores and the Sephora in-shop concept. That's going to bring in consumers who may not traditionally shop at Penney. There's a good chance they may look around the store and Penney gets incremental sales."
STILL ON SIDELINES
Piper Jaffray analyst Jeffrey Klinefelter has maintained his neutral rating on Penney shares since January 2008, despite calling their March 2009 sales numbers encouraging.
"From a core retail operations point of view, we are just a little more cautious on their exposure to malls and our assumption is that spending trends will remain under pressure for the moderate income consumer," Klinefelter said this week.
Penney said its home goods division was the strongest in March, which Klinefelter said was mostly due to easy comparison against a year ago, when overall same-store sales fell 12.3 percent, and the fact that the housing market has slowed.
"Consumers (are) spending more time and a bit more of their budgets on refreshing their existing homes, but a majority of that is easy comparisons," he said.
In a note following Penney's March same-store sales results, Thomas Weisel Partners analyst Liz Dunn raised her price target to $15 from $13, but kept her "underweight" rating. Dunn said Penney faces risks such as the overall strength of the U.S. consumer market, how consumers would respond to fashion trends and the danger of lower-than-expected same-store sales. (Reporting by Aarthi Sivaraman; Editing by Andre Grenon)
© Thomson Reuters 2023 All rights reserved.