Wim Wenders' new film an embarrassment
By Peter Brunette
CANNES (Hollywood Reporter) - It's well known that once-revered German auteur Wim Wenders doesn't make films like he used to.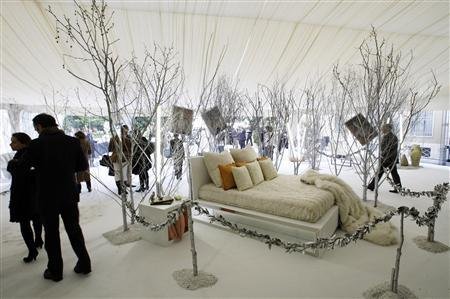 The director of such cinema classics as "Kings of the Road" (1976), "The American Friend" (1977), "Paris, Texas" (1984) and "Wings of Desire" (1987) hasn't made a decent film since "Buena Vista Social Club," his 1998 documentary on music in Cuba.
However, Wenders has reached a new low with "Palermo Shooting," a film of startling and embarrassing banality and, yes, even silliness. One is hard-pressed to imagine any commercial future whatsoever for this film, and a pickup by a U.S. distribution company seems virtually impossible.
Finn (German rock star Andreas "Campino" Frege) is a very, very handsome photographer who leads a hectic but exciting professional life. (This character seems to be lifted almost intact from Antonioni's "Blow-up," including a scene in which he enlarges a photograph to find its hidden meaning.)
One night he's almost killed in an automobile accident and he comes face-to-face with the meaninglessness of his life. After a fashion shoot in Palermo, he decides to stay in the Sicilian city presumably to reconnect with the reality that has been drained from his high-tech locations and to discover the meaning of life.
What he discovers instead is a fleeting monklike figure, part real and part dreamlike, who is shooting semi-imaginary arrows at him. Everyone he encounters in his mostly cliched wanderings through the city tells him Palermo is "the city of death" despite the fact that many other writers and filmmakers have long ago awarded this honor to Naples. He also meets Flavia, a specialist in the restoration of frescoes, who also helps to restore his spirit.
Every time the film goes philosophical on us, the resultant dialogue is sententious and banal. We learn, among other things, that people during the time of the fresco that Flavia is restoring were afraid of death, and that they still are, and that, to live life to the fullest, we should do everything as though it were for the last time. He speaks meaningfully of "absurd freedom" and "desperate futility." Finn also is repeatedly warned that doing this "fashion crap" is hurting his reputation in the art world, another not-exactly-fresh theme.
Finn also is beset by recurring nightmares in which he is reduced to a minuscule figure in a gigantic room (shades of "The Incredible Shrinking Man," but at least that guy had the excuse of atomic radiation). Another favorite is a distorted clock that he hangs on to in mid-air (shades of Bergman's "Wild Strawberries"). Wenders seems to have absolutely no idea that these images would cause audiences to laugh out loud (and not in a good way).
In his travels, Finn encounters a huge number of disparate souls that impart various nuggets of wisdom. He tells one, in one of the movie's better moments, that "I am completely lost." But all of this pales into insignificance when he comes face-to-face with Death, appropriately played by Dennis Hopper.
During their verbal sparring, Death explains reasonably that "the fear of death is really a fear of life," but the best exchange comes when he peevishly complains that "I'm tired of playing the bad guy" and asks Finn, the accomplished photographer, to help him improve his image by taking a great photo, even if it has to be a digital one, which he doesn't approve of.
For most viewers, the question of the meaning of it all will come down to this: Where does Wenders find people to continue to invest in his films?
Reuters/Hollywood Reporter
© Thomson Reuters 2023 All rights reserved.