Women's classic retailer Viyella in administration
LONDON (Reuters) - Women's clothing manufacturer and retailer Viyella, formed in 1784, became the latest household name to fall into administration, saying on Wednesday it had no alternative in the current economic climate.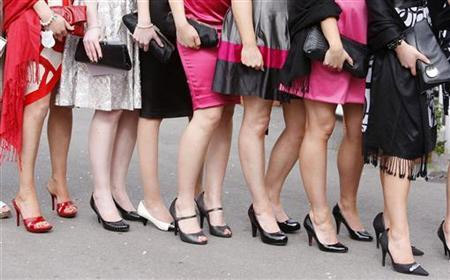 Spectators queue as they arrive on the course for ladies day on the second day of the Grand National meeting at Aintree racecourse in Liverpool - Photo : Phil Noble/Reuters
The company, which is best known for its high-quality classic womenswear, operates around 100 stores and concessions throughout the UK and employs around 450 staff.
Insolvency practitioners Poppleton & Appleby, who have been appointed administrator, said in a statement Viyella was a trusted and respected brand and it had already been contacted by interested parties.
"We are currently assessing all options and, for the time being, allowing all the existing stores to continue to trade while a buyer is sought for the business," it said.
Viyella is owned by John Harris and Sue Watson.
"Following an assessment of the current economic situation and the prospects for the future, the directors have reluctantly decided that they have no alternative but to place the business into administration," they said in a statement.
"We believe there will be a strong interest in the Viyella brand and hope the joint administrators will be able to conclude an early sale which protects the brand name and many of the jobs within the business."
The owners thanked the staff for their hard work but said the economic downturn had undone all their efforts.
Viyella joins a growing list of retailers which have fallen into administration in recent months, including Woolworths, Waterford Wedgwood, Hardy Amies and others.
(Reporting by Kate Holton; editing by Elaine Hardcastle)
© Thomson Reuters 2023 All rights reserved.