Madrid, 2 Sept (EFE) – Spanish student Amaya Cárcamo, at Madrid's University of fashion design was victorious with his wooden underwear design in an online competition mustered by brand, Triumph.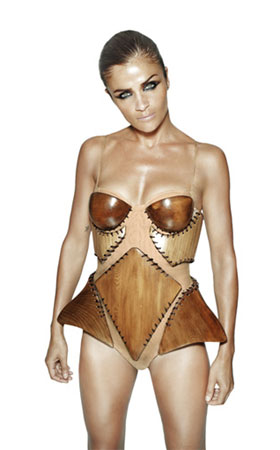 Wood Sensation
The winning design, called "Wood Sensation" became a favourite amongst internet users that picked him from the final 27 winning designs, created in University's around the world, which will take part at the Triumph Inspiration Award 2010 final to be held in London on September 16th.
Under the contest's theme, "Shape Sensation", the winner proposed a lingerie design made of wood that according to designer
Loewe
"is one of the most impressive creations made by a human being, enhancing the most sensual feminine form", a statement reported.
Danish model
Helena Christensen
posed for British fashion photographer Rankin, wearing the final 27 lingerie designs, including Amaya Cárcamo's creation.
The Triumph Inspiration Award judges include Helena Christensen, Rankin,
Matthew Williamson
, actress Karen Mok, Hilary Riva, president of the
British Fashion Council
(BFC); Suzanne McKenna from Triumph and a representative from the group of judge internet users.
© EFE 2023. Está expresamente prohibida la redistribución y la redifusión de todo o parte de los contenidos de los servicios de Efe, sin previo y expreso consentimiento de la Agencia EFE S.A.