Zimbabwe's new fees will cripple mines -industry
HARARE - Zimbabwe's new mine licence fees and resource rentals will significantly raise the cost of mining and threaten the sector's viability, with as much as 60 percent of mining revenues going to the government, an industry body said on Monday.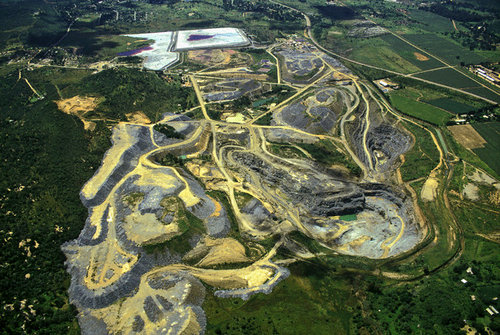 Zimbabwe gold mine / Photo: Corbis
The southern African country hiked pre-exploration fees for most minerals by as much as 8,000 percent in January, with registration charges for platinum and diamond claims going up to $2.5 million and $5 million, respectively, in a move it says is meant to curb the speculative holding of mine titles.
Miners now must also pay annual ground rentals ranging from $500 per hectare for chrome to $3,000 per hectare for diamonds, according to a government notice.
The Zimbabwe Chamber of Mines told a parliamentary committee hearing that the new fees, coupled with royalty increases of 7.5 percent for gold and 10 percent for platinum announced in the 2012 budget, would seriously hurt miners who have yet to fully recover from a decade-long economic crisis.
"The fee structure is unworkable. The industry is already overburdened by the totality of statutory charges, royalties, levies and commissions," the chamber's vice president, Allan Mashingaidze, told the parliamentary committee.
"It's estimated that 60 percent of every dollar earned in revenue goes to the government, making Zimbabwe one of the most expensive countries to mine."
Industry players estimate the increase in fees could cost the sector up to $1 billion, sending miners close to bankruptcy.
"We believe the way forward is for government to suspend the new charges, pending consultations with the industry," Mashingaidze added.
The mining industry, which has overtaken the stricken agriculture sector as Zimbabwe's main foreign exchange earner, contributed the bulk of the country's $4.4 billion export earnings in 2011.
Finance Minister Tendai Biti's $4 billion budget for 2012 is anchored by an expected $600 million in revenues from the alluvial Marange fields, where the government has a 50 percent shareholding in all five mines licensed to operate there.
Zimbabwe has the world's second-largest platinum reserves after South Africa, as well as significant gold, diamond, coal, iron ore and chrome resources.
The world's largest platinum miner, Anglo American Platinum , and number two producer Impala Platinum both have operations in Zimbabwe, while global giant Rio Tinto has a diamond mine there. (Reporting by Nelson Banya, editing by Jane Baird)
© Thomson Reuters 2023 All rights reserved.