Zimbabwe to re-evaluate all mining contracts
HARARE (Reuters) - Zimbabwe will re-evaluate all mining contracts and introduce a "use it or lose it" policy for its mining industry under a proposed law, the country's Finance Minister Tendai Biti told Reuters on Friday 3 July.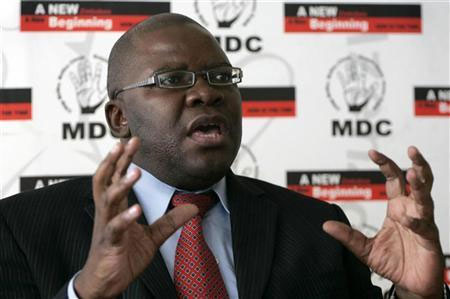 Zimbabwe's Finance Minister Tendal Biti - Photo: REUTERS/Philimon Bulawayo
News of the vetting of mining contracts by Zimbabwe's unity government of President Robert Mugabe and Prime Minister Morgan Tsvangirai is likely to surprise investors at a time the country is wooing them to help repair a battered economy.
Mining in the southern African country has become the leading source of foreign exchange, with gold accounting for a third of exports, but political turmoil, lack of energy and unfavourable regulatory rules has led to several mines closing.
"The government... is working on a new mining law, amendments to the mining laws, so that we comply with new standards for the extractive industries, which the World Bank is insisting on," Biti said in an interview.
"That law will introduce the concept of 'use it or lose it' with respect to... mining claims. It will also introduce the re-evaluation of every mining contract that has been signed in Zimbabwe."
Biti declined to say when the proposed law would be brought to parliament, saying he didn't want to pre-empt the mines minister.
Some of the key players in Zimbabwe include Impala Platinum Holdings (Implats), the world's second largest producer of the metal, which has the biggest mining investments in Zimbabwe. Its bigger rival Anglo Platinum and Rio Tinto also have mining interests in the country.
Implats and Angloplat officials in Johannesburg said they were unaware of Zimbabwe's plan to re-check mining contracts, and would wait for more details before making a comment.
In particular, Zimbabwe's gold mining sector had been badly hit by closures at the height of an economic and political crisis, but gold firms are gradually reopening their operations to take advantage of a new rule introduced by central bank this year, allowing them to keep the proceeds from the sale of gold.
Gold is key for Zimbabwe's export earnings after commercial agriculture collapsed following Mugabe's seizure of white-owned farms to resettle landless blacks.
By Nelson Banya
© Thomson Reuters 2023 All rights reserved.