Adidas aims for 500 million euros in sales of outdoor products
It looks like sporting goods companies are lusting after the outdoor sector. In an interview given to German newspaper Berliner Zeitung last Saturday, Adidas CEO Herbert Hainer spoke of his ambitions in this particular area.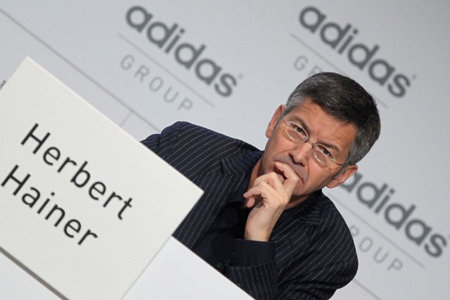 Adidas CEO Herbert Hainer (Photo: Corbis)
"Adidas Outdoor is still fairly unknown, but it already turns over 200 million euros. From now until 2015, we would like to bring that up to 500 million and we expect to achieve this objective without acquisitions, even if there are plenty of options out there to do so", Hainer commented in his reply to a criticism that Adidas had missed out on the "outdoor boom". The CEO of the German manufacturer reminds us that Jack
Wolfskin
has annual turnovers of around 300 million euros. In any case, Adidas will also be present at Germany's outdoor trade show on July 14-17, after the brand celebrated its return in 2009.
Copyright © 2023 FashionNetwork.com All rights reserved.