Adidas eyes double-digit growth in Russia
MOSCOW, Oct 10 (Reuters) - German sporting goods company Adidas AG expects investment in its own stores and rising consumer spending in Russia to propel the region to becoming one of its top three global markets behind the United States and China, it said on Monday.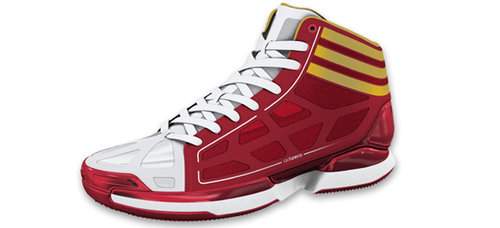 l'adiZero Crazy Light. d'Adidas
Adidas expects its sales in the Russia/CIS region, which includes former Soviet satellite states such as Ukraine and Kazakhstan, to surpass 1 billion euros ($1.3 billion) by 2013, up from 786 million last year, Chief Executive
Herbert Hainer
said at an investor day in Moscow.
The region last year posted sales of 786 million euros and Hainer said he expects sales to grow at least 10 percent annually to 2015.
"Russia is already our biggest market in Europe. We have good margins here," Hainer told journalists, adding that GDP in the country is expected to rise by an average 4.5 percent annually to 2015.
Shares in Adidas were up 1.8 percent at 48.39 euros at 1316 GMT, among the top gainers on the blue chip Dax index , which was up 0.6 percent.
Russian consumers spend on average three-quarters of their income on consumer goods, in comparison with 40 percent for Europeans in general, Hainer said.
Adidas, the world's second-largest sports apparel company after
Nike
Inc , said the Russia region would thus overtake Japan, where sales have been hurt by the earthquake and tsunami this year, to become the group's third-largest market in terms of sales.
The group says it is market leader in Russia/CIS, where running, outdoor and soccer items are among its key products.
It will also step up its store opening programme, increasing its network of own stores to 800 by the end of this year and to more than 1,200 by 2015.
Hainer also said he expected the group, famous for its three-stripe design, to continue to grow next year, in spite of concerns the European debt crisis could hit consumer spending.
"All signs are positive. I'm fairly optimistic for our company," he told journalists.
He predicted record sales from its soccer range next year, helped along by the European championships being held in Poland and Ukraine.
He declined to specify a target but said that Adidas wanted more than just "slight increases".
Adidas achieved 1.5 billion euros in soccer goods sales in the last World Cup year of 2010 and expects a similar level this year, even without a major tournament taking place.
Soccer is a key sport for the group and its soccer goods achieved total sales of 11.99 billion euros in 2010. Adidas provides the kit for the German national team, as well as World Cup winners Spain and Euro 2012 hosts Ukraine.
By Christian Kraemer
Copyright © 2022 FashionNetwork.com All rights reserved.