Adidas sues Big 5 over alleged sneaker knock-offs
Adidas AG has sued to stop a U.S. sporting goods retailer and a skateboarding equipment maker from selling sneakers with three parallel diagonal stripes, a design it said looks too much like its own.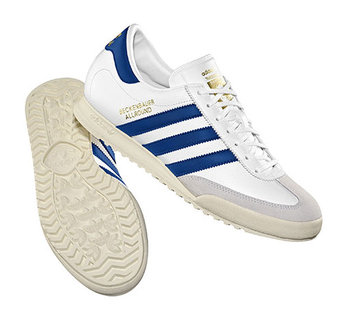 Adidas's Beckenbauer model, with the famous three stripes / Photo: Adidas
The world's second-largest sporting goods company claimed that sneakers made by World Industries Inc and sold by
Big 5 Sporting Goods
Corp are knock-offs that infringe many Adidas trademarks.
Adidas first used the three-stripe motif in 1952 and began trademarking it in the United States in 1994.
World Industries could not immediately be reached for comment. Big 5, which has roughly 407 stores, did not immediately respond to a request for comment.
The stripes on World Industries' sneakers resemble those on Adidas' sneakers, but with tips shaped like arrows. Adidas attached to its complaint a Big 5 ad with adjacent World Industries and Adidas sneakers bearing a three-stripe design.
"World Industries' merchandise is likely to cause consumer confusion, deceive the public regarding its source, and dilute and tarnish the distinctive quality of Adidas' Three-Stripe Mark," Adidas said.
Adidas filed its complaint with the U.S. District Court in Portland, Oregon, where the German company's Adidas America unit is based. It seeks to halt the sale of infringing sneakers, the destruction of the sneakers, and money damages.
World Industries is based in Costa Mesa, California, and Big 5 in El Segundo, California.
Adidas has in recent years filed similar lawsuits against other retailers including Wal-Mart Stores Inc, which it said sold knock-off sneakers with two or four parallel stripes.
In 2008, a federal judge awarded Adidas $65.3 million in its trademark case against
Payless
ShoeSource Inc, reducing an earlier $305 million award by a jury. The companies later reached a confidential settlement, court records show.
Nike Inc
and
Asics
Corp are among Adidas rivals to file lawsuits to protect their respective designs.
The case is Adidas America Inc et al v. World Industries Inc et al, U.S. District Court, District of Oregon, No. 12-00859.
© Thomson Reuters 2022 All rights reserved.