Aeropostale sees discounts hurting Q2 profit, shrs fall
May 19 - Aeropostale Inc forecast second-quarter earnings much below analysts' estimates, as the teen retailer struggles with rising cotton costs, big discounts and competition with peers.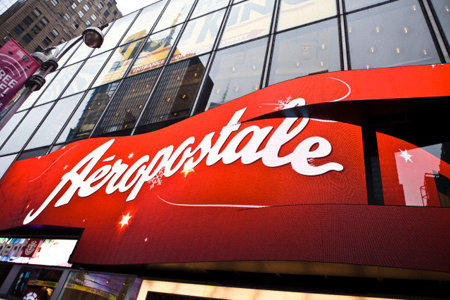 Aeropostale flagship store in Times Square
Shares of the company were down 11 percent at $18.90 after the bell.
For the second quarter, the company expects to earn 11-16 cents per share, compared with analysts' expectations of 27 cents a share, according to Thomson Reuters I/B/E/S.
"Our outlook for the second quarter reflects our plans to aggressively clear through spring inventories to position ourselves appropriately for the important back to school selling season," Chief Executive Thomas Johnson said in a statement.
Teen clothes retailers have often been criticised for the sameness of their products, which makes it difficult to retain a loyal customer base. Most of them take to discounting and use low prices to get more traffic, which in turn eats into margins.
On Wednesday, Abercrombie topped market estimates as demand in both domestic and international markets rose.
Aeropostale, which has lost market share to rivals like
Forever 21
and
Abercrombie & Fitch
Co , has suffered from a lack of compelling merchandise, but is mulling price increases to fight the pressure on margins.
"It'll be the fourth quarter before the product is fit for the customer," Sterne, Agee & Leach analyst Margaret Whitfield said.
"They have excessive inventory that they need to clear before the back to school season. If the product is right, they'll be able to raise prices, but if the product's not right and the consumer doesn't buy, they wont be able to hold on to price increases," she said.
For the first quarter, the company posted a net income of $16.4 million, or 20 cents a share, in line with what it had forecast earlier in the month.
Clothes retailers have also been hurt by high costs of raw materials like cotton.
Gap
Inc slashed its full-year profit outlook on Thursday, saying price increases will not be enough to keep up with rising cotton and production costs.
Zumiez Inc , which sells clothing and equipment for skaters, snowboarders and other action sports, also forecast second-quarter earnings mostly below estimates.
The company, which has consistently outperformed peers with its differentiated products, also warned of increased labour and transportation costs affecting profitability.
Zumiez shares were up 5 percent at $27.50 on Thursday after the bell. They closed at $26.29 on Nasdaq.
(Reporting by Nivedita Bhattacharjee and Arpita Mukherjee in Bangalore; Editing by Roshni Menon)
© Thomson Reuters 2023 All rights reserved.