Alberto Paccanelli: "We will be flooded with cheap Pakistani imports"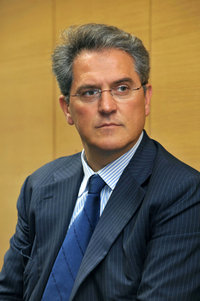 Alberto Paccanelli, president of Euratex.
Until the end of 2013, Pakistan is now allowed to export a range of products to Europe, including textiles and clothing, without paying any duties. The duty waiver is intended to help the country following the 2010 floods, a measure that
Euratex
has long opposed. During the
CELC
Congress (the European Confederation of Linen and Hemp) held in Brussels, Euratex president Alberto Paccanelli again addressed the expected effects of this measure as well as the future free trade agreement with India.
FashionMag.com: What is your view on this measure one month on from it being was approved by Brussels?
Alberto Paccanelli:
I think that we will feel the first effects of this decision during the first six months of 2013. Regarding imports, Turkey will probably not be satisfied with the result, nor will India. But don't forget that there are still many factories in Europe and North Africa that will also be affected. My vision is that we should be supporting the new revolution in North Africa rather than helping Pakistan. We will be flooded with cheap Pakistani imports of inferior quality. And once again, it will destroy the market. This sends a bad message to all manufacturers in Europe who are defending their position in an already very complex industry. I think we did not need such a message from the political sector.
FM: Do you consider this to be a failure of European industrial policy?
AP:
Government officials claim to be defenders of the manufacturing industry, all the while approving this type of thing. We are very disappointed by this policy and the logic behind it. Because there was absolutely no need to support the Pakistani industry following the floods. There was no flooding where there is a high concentration of factories. And these factories do not need support because they are already very strong competitors with well organized, large companies. Euratex promotes free and fair trade on a mutual basis. Thus, we cannot accept this kind of agreement with certain countries.
FM: The waiver includes protective provisions for textiles and clothing. Do you think they go far enough?
AP:
I think this is a good thing. We pushed the issue to get these weapons to defend ourselves. This is a good tool because it allows us to have a system in place to monitor what happens. But the legislation is now in effect. We must examine what its actual impact will be going forward.
FM: What is happing with the free trade agreement with India that you want to see finalized before the end of 2013?
AP:
I think that this free trade agreement is a very good opportunity for European companies because, as you know, import and export law in India is still very strict. The paragraph on textiles has already been finalized. So we have an agreement on the issue. But we expect that for the final agreement, a consensus will be reached for the section about cars, which raises a whole series of problems.
Copyright © 2023 FashionNetwork.com All rights reserved.