Amazon, eBay and Google battle for growth in the global apparel market
According to Research and Market's Textiles Intelligence report, Amazon and eBay are increasingly focusing on the huge but relatively untapped online apparel market. The market is being driven partly by technology as electronics and software continue to develop at a breathtaking pace and partly by the growth in online shopping as an increasing number of consumers are choosing to buy goods at leisure from the comfort of their own homes in preference to battling with traffic congestion and struggling with crowds in shopping malls.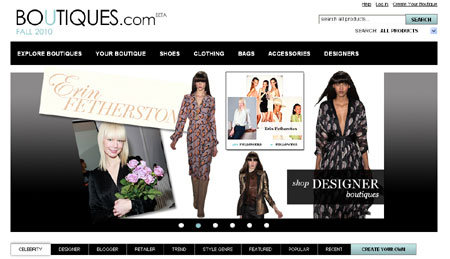 Google's Boutiques.com: Amazon and eBay's new rival
Both companies have been investing heavily on online shopping. They are developing new tools aimed at capturing market share while also investing in people by recruiting fashion teams and designers worldwide, and forming partnerships with leading brand owners and retailers.
Recent initiatives by Amazon include the launch of its Outdoor Recreation Store and Denim Store, its acquisitions of Zappos.com and BuyVIP.com, a refocus on high-end fashion retailing, and the launch of exclusive collections such as Heidi Klum for
New Balance
. Recent initiatives by eBay include online storefronts in the USA in which retailers such as
Brooks
Brothers and
Timberland
sell excess and discounted stock directly to buyers. In addition, eBay has launched a fashion outlet site in the UK, and the company's lookbook has been billed as the first ever shoppable, shareable digital style gallery. In October 2010 eBay announced that the designer
Derek Lam
would introduce an original collection to be sold exclusively on the site.
For many firms, selling apparel online is a comparatively high risk business. But Amazon and eBay already have strong market shares, brand positions and reputations in online retailing worldwide. It seems likely, therefore, that their respective ventures in the apparel sector will prove highly successful. Neither company, however, banked on the sudden attention of another potential rival,
Google
. To date, Google has generated 97% of its turnover through advertising revenues. Consequently, Google's decision to enter the online apparel market by forming Boutiques.com which enables consumers to run their own personalised boutiques with the help of celebrity endorsements represents a significant new direction for the company and for the online apparel market in general.
Copyright © 2023 FashionNetwork.com All rights reserved.