AnnTaylor sees 1st-qtr better than Wall St view
SAN FRANCISCO, May 13 (Reuters) - AnnTaylor Stores Corp (ANN.N) said on Wednesday 13 May it should report a smaller first-quarter loss than Wall Street expects, helped by improved gross margins and cost cuts.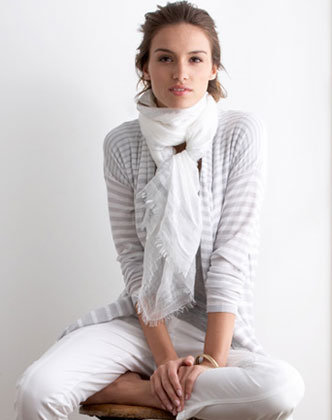 'The Summer Cardigan' at Ann Taylor
The operator of the Ann Taylor and Ann Taylor LOFT chains said sales continued to be hurt as consumers reduced spending, especially for women's clothes. But the retailer said it kept a close eye on expenses and inventory in the quarter, helping results.
"We were successful in delivering a first-quarter 2009 gross margin rate that was much higher than the gross margin rate we reported in the fourth quarter of 2008," said Chief Executive Officer Kay Krill in a statement.
"As a result, we expect to report a first-quarter 2009 loss per diluted share that is much better than the current First Call consensus estimate."
Analysts, on average, expect the retailer to report a first-quarter loss of 26 cents per share, according to Reuters Estimates.
AnnTaylor has struggled in the recession as professional women buy less of its work-friendly clothing. It reported a fourth-quarter loss almost twice as deep as Wall Street expected, hurt by aggressive markdowns, and said at the time that it would close 46 more stores.
The retailer has been cutting costs and keeping inventories lean, a strategy it said should lead to improved gross margins.
It will report first-quarter results on May 20. (Reporting by Nicole Maestri; editing by John Wallace)
© Thomson Reuters 2023 All rights reserved.