Arcandor files for insolvency
BERLIN/FRANKFURT (Reuters) - German retail group Arcandor (AROG.DE) threw in the towel on Tuesday 9 June, filing for insolvency after the Berlin government rejected its request for emergency state aid.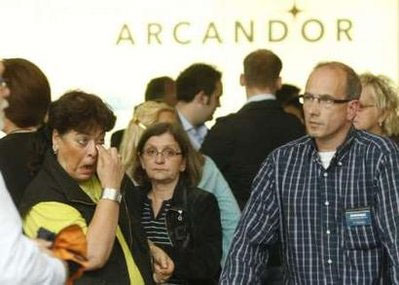 Employees react at the headquarters of Arcandor in Essen, June 9, 2009 - Photo: REUTERS/Ina Fassbender
Arcandor said the court filing covered its
Karstadt
department stores, Primondo mail-order and Quelle catalogue businesses but excluded
Thomas Cook
(TCG.L), Europe's second-biggest travel group in which it holds a majority stake.
Arcandor shares were suspended down 21.7 percent before the official news. They were due to resume trading at 1 p.m..
"Finally. This is what people had been waiting for," one Frankfurt trader said.
Citing a government source, Reuters had reported earlier that Arcandor told the government it would file for insolvency and did not plan a final appeal for state aid after its urgent requests for an emergency loan were batted back by Berlin.
Arcandor Chief Executive Karl-Gerhard Eick, reached by Reuters on his mobile phone, declined to comment.
The German government on Monday 8 June rejected Arcandor's requests to tap state funds and gave the company one last chance to submit a new application.
The government had urged Arcandor's owners, banks and landlords to step up their own contribution to save the company.
Arcandor had said it would file for bankruptcy if it was denied state aid. The retailer needed government backing to renew credit lines worth up to 710 million euros (612 million pounds) by Friday 12 June.
Chancellor Angela Merkel had insisted that no state aid would be forthcoming unless Arcandor, which has been in talks with rival Metro (MEOG.DE) on a merger of their department store units, put together a viable plan for its future.
Arcandor's Karstadt department stores go back to the 19th century and are a prominent feature on Germany's high streets. It operates about 120 stores and rival Metro has indicated it would be interested in taking over about 60 of them.
A senior German official who requested anonymity told Reuters several foreign and domestic investors have expressed serious interest in Arcandor's mail order business Primondo, which includes the Quelle operations.
Gustav Schickedanz founded Quelle at the beginning of the last century and his heir Madeleine Schickedanz is still a major shareholder in Arcandor.
The world's biggest mail order group, Germany's Otto, has said it might be interested in parts of Primondo.
(Reporting by Markus Wacket, Madeline Chambers and Sarah Marsh in Berlin and by Eva Kuehnen and Christoph Steitz in Frankfurt, Nikola Rotscheroth in Duesseldorf; Editing by Elaine Hardcastle, John Stonestreet)
© Thomson Reuters 2023 All rights reserved.