Armani says designers find it hard to let go
By Marie-Louise Gumuchian
MILAN (Reuters Life!) - Founding fashion designers need to learn to let go of their companies even though it hurts, according to the doyen of Italian fashion, Giorgio Armani.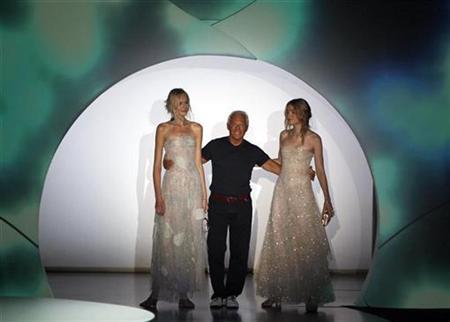 The designer, who is in his 70s and is one of Milan's long-established names, has kept investors on their toes as to the future of his company, at times hinting at a bourse listing, at times signaling that he could sell his group.
"It is painful but you need to have the courage that --, once it is done -- not to have any claims over it," he told Italian daily Il Sole 24 Ore in its Friday issue.
"In the case of reaching a certain age or the market needing a radical change in style, it is extremely difficult for someone who created a company to detach themselves from it."
Armani, known for his shrewd business sense, has been more vague about his plans than other designers of his generation. Valentino Garavani, a Hollywood favorite, retired in January.
Armani has previously slammed "exploitative" private equity firms, which have been snapping up fashion companies such Permira's purchase of Valentino Fashion Group.
He said he did not have a successor picked because he still made all the decisions. "I have never posed myself the problem, looking at the pros and cons ... I have not picked my 'heir'.
"Touch wood, we're not talking about it (but) an organization that is so precise could easily survive me. I can easily manage this as I have always firmly kept the style, management and ownership in my hands."
Armani is widely ranked as one of the last of the great designers from an era before fashion became a global, highly commercial industry run as much by accountants and marketing executives as couturiers.
Its growth into a $127 billion industry is slowly threatening the old guard and ushering in a new breed of designers seen as better suited to lead expansion into new markets and product lines.
Armani said it was hard for new designers to take over from the "untouchable icons" of fashion.
Designer Alessandra Facchinetti left the Valentino fashion house this month after less than a year.
"The founder is linked to the brand and represents its style," he said. "When it comes to replacing the founder there is always a doubt as to whether to change the style.
"The young designers have all the talent that is needed but in a system made up of only 'untouchable icons' that cut off all oxygen, you can also die," he said.
(Reporting by Marie-Louise Gumuchian, editing by Paul Casciato)
© Thomson Reuters 2023 All rights reserved.