Asics asks 'Are you made of sport?' in new global campaign
"Made of Sport" is the new name of Asics' new global advertising campaign, to be broadcasted in Europe, Asia (Japan, South Korea) and Oceania. Featuring both elite and amateur athletes, such as Europe's fastest 100- and 200-metre sprinter Christophe Lemaitre, this campaign will be Asics Europe's largest media investment to date. The TV commercial was pre-launched in Eurosport at the end of December last year in 59 countries and 125 million households. Now it will begin to go live across Europe, starting with the UK and Germany since January 2012


"We decided to create a campaign that strips sport back to its true authentic meaning and taps into its real values; teamwork, sacrifice, sportsmanship and dedication. We feel our audience will relate much more to seeing the behind the scenes of elite sport and everyday athletes than they will to watching high-profile 'celebrity' athletes pose and posture," said European marketing director Michael Price.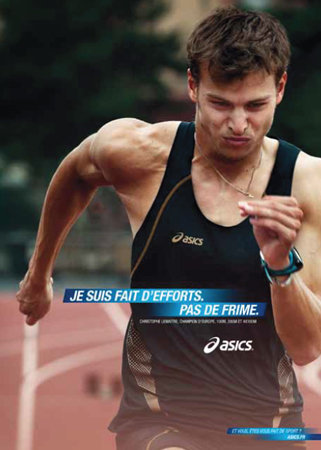 Image from print campaign shot by Ben Ingham
By asking at the end of each advert 'Are you made of sport?', the campaign which was created by the '180 Amsterdam' agency encourages viewers to ask themselves what makes them sporty.
Copyright © 2022 FashionNetwork.com All rights reserved.