ASOS has China in sights as beefs-up IT
LONDON - British online fashion retailer Asos Plc is holding fire on opening more country-specific websites, including one for China, until it has enabled its platform to handle all language character sets rather than just western.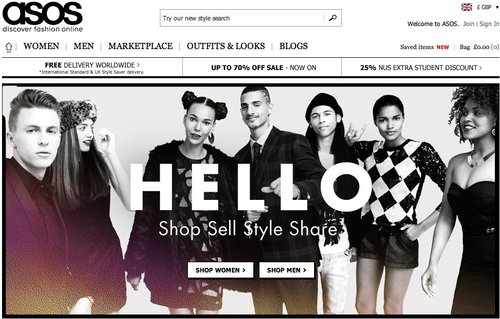 Screen shot from Asos.com
Chief Executive
Nick Robertson
said on Thursday developing such a platform, which could accommodate character sets such as hanzi, cyrillic and sanskrit, would take about 12 months longer than creating individual platforms for different countries but will be considerably more efficient in the long term.
"We've just gone 'look China's not going anywhere, Brazil's not going anywhere, India's not going anywhere.' Let's build what's fit for purpose now, give us a single platform that can accommodate all of these language sets and character sets and off we go," he told Reuters on Thursday.
"The timeline's pushed out a bit but when it happens we can just go bang, bang, bang," he said.
"We could do some others (sites) now, we could do them really quickly, but actually I'd rather divert all that effort and energy into landing the big ones quicker."
Robertson hopes to have a Chinese language website up and running in 18-24 months.
He noted that China is already a top five country for Asos, with Chinese customers using the UK site and he sees enormous potential for the firm in that market.
"China in the last three years has added more internet users than the entire United States and it's still only got 34 percent penetration whereas the U.S. is 79 percent," he said.
But he would not confirm China would definitely follow the UK, United States, France, Germany, Australia, Spain and Italy as Asos' eighth website.
The CEO was speaking after Asos posted a 66 percent rise in first-half profit, with strong sales growth overseas offsetting a sharp recent slowdown in the UK.
Shares in Asos reached a 12-month high of 2,508 pence in June, fuelled by buoyant trading and bid speculation, but have since fallen back sharply as the overall market has tumbled, directors have sold shares and investors have worried about the impact of rising youth unemployment on UK growth.
The stock was down 1.9 percent at 1,470 pence at 0935 GMT, valuing the business at 1.11 billion pounds.
HIGH GROWTH
"The shares are expensive on conventional metrics but underpinned by high growth rates," said Collins Stewart analyst Wayne Brown.
Asos, which targets Internet-savvy 16 to 34-year-old women looking to emulate the designer looks of celebrities such as
Kate Moss
,
Alexa Chung
and Tulisa Contostavlos but at a fraction of the price, made an underlying pretax profit of 11.7 million pounds ($18.7 million) in the six months to Sept. 30, up from 7.0 million pounds in the same period last year.
Group revenue, reported last month, rose 56 percent to 217.3 million pounds, while gross margin was up 10 basis points.
International retail sales jumped 150 percent to 122.2 million pounds, but UK retail sales were up 8 percent to 88.7 million pounds after second quarter growth slowed to 1 percent.
Robertson said he was confident of making a full year underlying pretax profit in line with market expectations of about 40 million pounds.
Asos is targeting 1 billion pounds of sales by 2015 as it rapidly expands overseas.
Sales outside of the UK, which offer higher margins, currently account for 58 percent of the total. Robertson expects this figure to be over 90 percent by 2015/16.
UK retailers are generally struggling as shoppers' disposable incomes are being squeezed by rising prices, subdued wages growth, a lack of credit, and government austerity measures. Consumers are also worried about job insecurity and a stagnant housing market.
Those with strong internet businesses have been faring better, however, as time-pressed consumers take advantage of the convenience, and price transparency, of shopping online.
On Wednesday, surging online sales helped Next , Britain's No. 2 clothing retailer, offset a tough third quarter at its stores and keep its full-year profit forecast.
By James Davey
© Thomson Reuters 2023 All rights reserved.