ASOS sees slower growth; big prospects abroad
By Mark Potter
LONDON (Reuters) - British online fashion retailer ASOS expects sales growth to slow in the coming months, but is confident of meeting analysts' expectations and upbeat about prospects for its international expansion.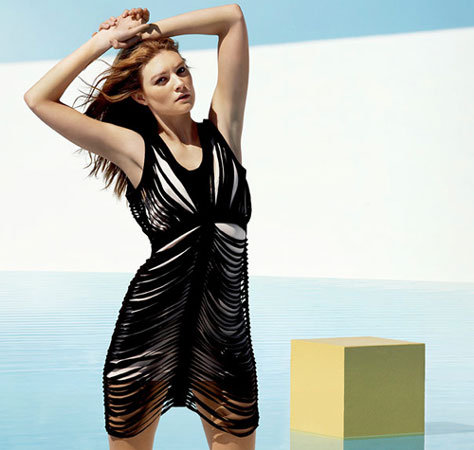 Asos Spring-Summer 2009
Chief Executive
Nick Robertson
told the Reuters Global Retail Summit Friday 12 June that international sales could grow to 50 percent of total sales over time, from about 20 percent now.
"Is our growth slowing? Yes of course it is. We couldn't keep growing at 100 percent," he said.
Sales rose 104 percent in the year ended March 2009 and were up 80 percent on the four weeks to April 24, but Robertson said the latter figure was boosted by Easter trading, which fell into the previous quarter in the last financial year.
He was "comfortable" with analysts' consensus forecast for sales growth of 35 to 40 percent for the year ending March 2010.
ASOS is Britain's second-biggest online fashion retailer behind Next, targeting internet-savvy 16 to 34 year olds looking to emulate the designer looks of celebrities like Kate Moss and Victoria Beckham, but at a fraction of the price.
Robertson said confidence among ASOS's core customer base was holding up well, but its shoppers were starting to behave more cautiously as the recession continues.
"People are adjusting what they spend, irrespective of how they feel."
While growth would be slower, Robertson was confident it would remain robust, boosted by strong growth in online shopping generally, as well as new initiatives like Little ASOS for childrenswear and the more upmarket ASOS Black.
He forecast online clothing sales, as a percentage of total clothing sales in Britain, could grow from 4-5 percent to around 10 percent over the next two to four years, and that they could eventually reach a figure that "starts with a two."
ASOS ABROAD
Robertson said ASOS could have an international website platform ready "in the next nine months or so," which it will be able to tailor to individual countries.
He declined to say which country it would start with, but signaled the United States was a strong possibility.
"Don't think I'm not looking at the success of Topshop in New York thinking 'right, that's me all over,'" he said, referring to the success of billionaire retailer Philip Green's Topshop brand since it opened a flagship store in the United States in April.
Robertson also said he was encouraged by the success of British mail order firm Boden, which expanded into the United States and then Germany, and that ASOS had started "pre-marketing" in some foreign markets.
ASOS plans to distribute abroad from its warehouse in Hemel Hempstead, north of London, at least until sales are strong enough to justify a local arrangement.
"The key to all this is that it's just costing me technology. There is not an infrastructure cost," he said.
Robertson said he would probably consider adding to the firm's current distribution center -- which has the capacity to fulfill around 350 million pounds of sales a year -- in the 2010-11 financial year.
ASOS, which stocks over 800 brands and more than 21,000 products, including its own-label ranges, is looking at adding to its delivery options, he said.
He declined to give details, but said he was "a fan" of Amazon.com's Prime delivery option, which offers unlimited delivery and returns for a flat annual fee.
(For summit blog: blogs.reuters.com/summits/)
(Additional reporting by James Davey; Editing by David Cowell)
© Thomson Reuters 2023 All rights reserved.