ASOS to meet profit hopes as sales rise
LONDON - Fast growing British online fashion retailer ASOS said it would meet forecasts for year profit after it posted a 34 percent rise in fourth-quarter sales driven by growth in overseas markets.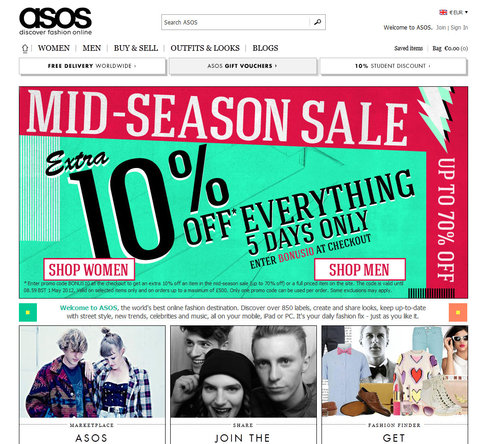 Asos's online retail platform
"We remain committed to our global expansion plans and approach the new financial year with confidence," chief executive Nick Robertson said on Thursday.
ASOS, which targets 16 to 34-year-old women looking to emulate the designer looks of celebrities such as Alexa Chung, Tulisa Contostavlos and Kate Moss, said UK retail sales rose 4 percent in the three months to March 31.
That compared with analyst forecasts of flat to up 9.6 percent and third-quarter growth of 10 percent.
International sales rose 63 percent versus analyst forecasts of growth of 61-94 percent and growth of 93 percent in the previous quarter.
Total fourth-quarter retail sales were 124.2 million pounds, taking the total for the year to 481.6 million pounds, an increase of 49 percent.
ASOS said gross margin in the quarter was "significantly ahead" year on year, reflecting the greater proportion of higher margin international sales.
Shares in the firm hit a 12-month high of 2,508 pence in June, fuelled by buoyant trading and bid speculation, but have fallen back since as the overall market tumbled, directors sold shares and investors fretted about the impact of rising youth unemployment on UK growth.
The stock closed Wednesday at 1,567 pence, valuing the business at 1.21 billion pounds.
© Thomson Reuters 2023 All rights reserved.