Bangladesh textile factories shut over pay dispute
DHAKA, June 22 (Reuters) - Owners shut all 300 garment factories at an industrial zone near the Bangladeshi capital on Tuesday as an increasingly violent protest by workers demanding higher pay entered a third day, business leaders and police said.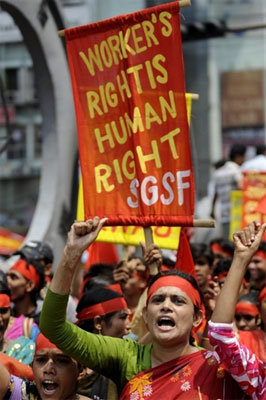 Photo : Munir uz Zaman/AFP
Among those closed were factories that produce and supply goods for global brands such as
Marks & Spencer
, JC Penney , Kohl's , Wal-Mart , H&M , Zara and Carrefour , said Abdus Salam Murshedy, president of the Bangladesh Garment Manufacturers and Exporters Association (BGMEA).

"Certainly our exports will be hit, buyers will become jittery, shipments will be delayed and investors will shy away," he told Reuters.

Police said thousands of workers clashed with security men, attacked vehicles and barricaded highways at Ashulia, one of country's major textile manufacturing areas on the outskirts of Dhaka. At least 100 people have been injured since Monday, police and witnesses said.

Murshedy said the BGMEA was currently negotiating with the government to raise the salaries of the garment workers.

The workers said they last received a pay hike in 2006 to 1,660 taka ($25) a month. They are asking for a minimum wage of 5,000 taka a month.

But the BGMEA, which represents more than 4,500 garment factories employing some 3.5 million workers, mostly women, says it could at best pay 3,000 taka as a minimum monthly salary.

Garments, Bangladesh's biggest export, account for more than 80 percent of the $15 billion annual export earnings, according to commerce ministry data.

Murshedy said the owners would not reopen the factories until the dispute was resolved.
© Thomson Reuters 2023 All rights reserved.