Beiersdorf shies away from detailed 2009 outlook
* Says drops mid-term op margin target for consumer unit
* To offset weaker demand at Tesa by cutting working hours
* Shares indicated 0.7 percent lower
(Adds details and background)
HAMBURG, Germany, March 3 (Reuters) - Germany's Beiersdorf (BEIG.DE), the maker of Nivea cream, shied away from giving a detailed 2009 outlook on Tuesday due to economic uncertainties, but said the group still aimed to grow faster than the market.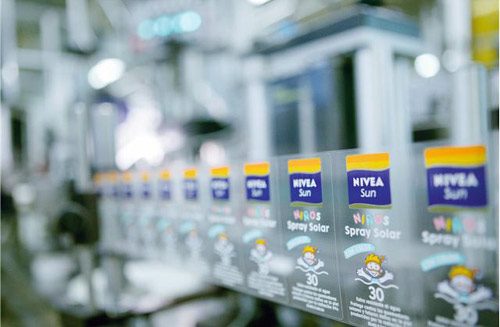 Beiersdorf Nivea Sun
The group still plans to raise its global market share to 5.5 percent from 4.8 percent last year, but abandoned its target for an operating margin at its consumer business of 15 percent by 2010 and now plans to maintain last year's level.
Beiersdorf said it expects "very low levels of growth" in the global cosmetics market, "possibly even market contraction", but said the group's organic growth would outpace the market.
To offset weaker demand at its Tesa adhesives unit -- which generates about 78 percent of its annual sales in the automotive, electronics and printing industry -- Beiersdorf has started to implement shorter working hours at some facilities but would continue to pursue its investment projects.
It expects a lower operating margin at Tesa in years ahead.
French rival L'Oreal (OREP.PA), the world's biggest beauty products group, said last month it planned to fight consumer gloom by introducing cheaper creams and cutting costs while hoping to produce "decent" results in 2009.
Beiersdorf shares were indicated 0.7 percent lower, according to pre-market data from brokers at 0738 GMT. The German blue-chip DAX index .GDAXI was seen 0.2 percent higher. The stock has fallen more than 20 percent since the start of the year.
Data from Thomson Reuters StarMine, which weights analysts' forecasts by their track record, showed shares in Beiersdorf trade at 15.2 times 12-month forward earnings, a slight premium to peer L'Oreal, which has a multiple of 14.6.
The company's strong organic growth and substantial net cash on its balance sheet justify this premium, analysts said. (Reporting by Eva Kuehnen; Editing by Michael Shields)
© Thomson Reuters 2022 All rights reserved.