Bernard Krief Consulting bids for Christian Lacroix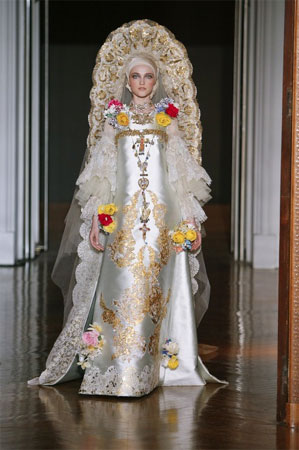 Christian Lacroix Haute Couture, Autumn-Winter 2009/2010, Paris - Photo: PixelFormula
PARIS, July 20 (Reuters) - Turnaround investment group Bernard Krief Consulting is planning to make an offer next week for cash-strapped French fashion designer Christian Lacroix, it said on Monday 20 July.

Crumbling under debts and unpaid bills, the company behind the designer known for his baroque and embroidered dresses was placed under creditor protection in early June.
"Haute couture is part of the cultural heritage and we think that Christian Lacroix is the greatest contemporary designer," Louis Petiet, head of Bernard Krief Consulting, told Reuters.
He said it was hoping to table its offer as early as next Monday (27 July).
Bernard Krief Consulting has taken advantage of the crisis to buy distressed businesses such as the car parts company Heuliez and textile group DMC.
At Paris fashion week earlier this month, Christian Lacroix stitched together a small couture show with the help of friends and dressmakers who worked for free.
Many fashionistas feared it could be his last.
The Christian Lacroix company belongs to the Falic family, who own the U.S. retail group Duty Free Americas.
Christian Lacroix, once part of the French luxury group LVMH (LVMH.PA), has never made a profit in its 22 years of existence.
Bernard Krief Consulting said it believed it was the only bidder for the company and it aimed to increase Christian Lacroix's revenues fivefold within five years.
In 2008, the company made a loss of 10 million euros on revenues of 30 million euros while orders for its 2009 women's ready-to-wear summer collection have been down 35 percent. (Reporting by Julien Ponthus; Writing by Astrid Wendlandt)
© Thomson Reuters 2023 All rights reserved.