Biba released in September at House of Fraser
July 12 - The iconic Biba brand initially launched by Barbara Hulanicki in 1964, appeals to a wide audience of all-aged women, and according to Stephanie Chen, Executive Director Womenswear & Accessories, "is synonymous with style ". More importantly it has a valued history, routed in decadence and glamour that echoes the era of the 1930s.



Biba shop-in-shop concept
Flamboyant and unique, this premier collection coming soon takes reference of the flattering cuts and styles from the 1960s and 1970s where it defined its look and is now rejuvenated to epitomise a new generation.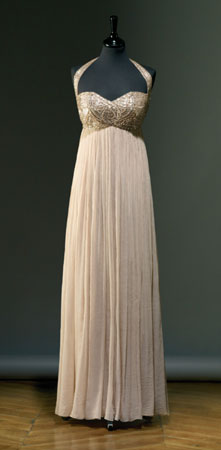 Look Book autumn-winter 2010/11: Bandeau Vintage Bead Maxi Dress (£325 / €390)
The design team have used the "extensive archive to maintain the passion and energy of the original Biba brand" commented John King, Chief Executive Officer.
House of Fraser
announced back in November 2009 that Biba would add itself to the department store's strong stable of house brands such as Therapy and Linea.
HoF hope for mutual success as a somewhat brave step has been taken to rework this Mecca of its time to current must-haves; Stephanie Chen further confirms "modern-day Biba will complement the other brands in our portfolio and we are delighted with the collaboration."
The 2010 wardrobe of unique pieces that ooze confidence and feminine style introduce various stories:-
'Luxe' offering fine detail velvet, brocade and Lurex in signature gold, black and bronze in items such as tunic dresses, tailored wide leg trouser suit and Marabou Jackets.
The Soft Metallics range with relaxed on-trend sophistication through a pretty colour palette and a vintage sensibility.
Biba Denim to fit all shapes in different colour washes.
And finally its limited edition collection of ten maxi dresses in unique prints of dark silk chiffons and Lurex jersey combinations.
The Biba collection will be available to buy exclusively from 35 UK House of Fraser stores and stocked online. Launch September 9th 2010.
Copyright © 2023 FashionNetwork.com All rights reserved.