Bloomingdale's soaks up the sun in Santa Monica
Bloomingdale's announces its August 6, 2010 opening in Santa Monica, CA. Fashioned after New York City's Soho location, Bloomingdale's will anchor the Santa Monica Place shopping center located between the iconic Third Street Promenade and Santa Monica pier.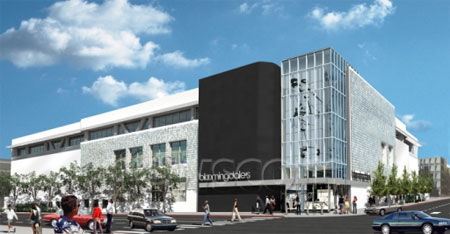 Bloomingdale's, Santa Monica
Michael Gould, chairman and CEO of Bloomingdale's says, "We have designed a store that will provide a sophisticated shopping experience with the sensibility of a beach community and hope it will become Santa Monica's newest neighborhood store."
Jack Hruska, executive vice president of creative services at Bloomingdale's describes the 80,000 square feet store; "we created a space which reflects the local beach community, but with a unique blend of luxe materials in new ways." This is undoubtedly a classic representation of the concept of the brand itself.
The outside of the building features a dramatic glass box on the corner of the building with shimmering aluminum discs suspended on three-inch pins.
Highlights of the store include, on the first floor: black and white checkerboard flooring in place of the traditional black and white marble for an industrial chic feeling and a mural of the Santa Monica Pier constructed of glittering sequins decorates the shoe department.
An innovative cosmetic area is complete with brands like Space NK and interactive treatment bars. Of course, inspired by the California sun, special attention is given to sunglasses in a cut-out luminous display with the likes of
Dior
,
Prada
and
Ray-Ban
shades.
Apparel is presented in pavilions; an oak one made for mens' shoes features a cement wall with fractured glass displays from designers such as Billy Reid, To Boot New York,
Converse
, and
Hugo Boss
.
The second floor provides a woman's oasis of heavenly designs in a creative luxurious space. Features include laser cut wood ceilings, large-scale boxes for fitting-rooms which illuminate when occupied.
Personal shopping is possible with the debut of "b-Style Bar" for customers who require their own stylist. When shopping gets tiring, popular Forty Carrots café can restore energy levels.
For additional information including upcoming special events and appearances, visit
www.bloomingdales.com/santamonica
.
By Rosie Hart
Copyright © 2023 FashionNetwork.com All rights reserved.