After New Delhi, Dubai, Macao and Cannes, Brioni has opened a flagship store in Zagreb, Croatia. 140 metres squared of luxury dedicated to their ladies' collections and especially men's wear, the label is popularly seen as the most prestigious brand for men's fashion in the USA. Who better than Brioni to flatter the male ego? After all, James Bond himself trusts them.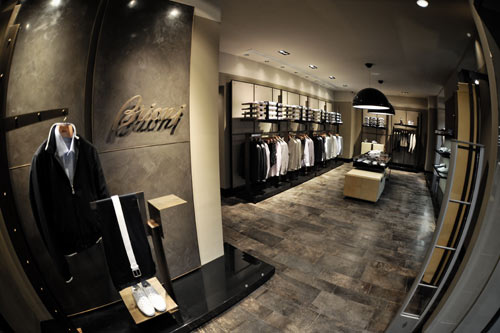 Interior of the Brioni boutique in Zagreb
"It's a very interesting location for Brioni", declared Andrea Perrone, co-CEO of the Italian group, recalling as he left that the first time they had all been crowded into the town was in 1971 for a fashion show. This new boutique joins an already exceedingly well-stocked portfolio which, along with 700 wholesale outlets, has 57 specialist boutiques throughout the world. On top of this the label plans to add more in the next few months; in Istanbul, Beirut, Dubai, Shanghai, St Petersburg and Lugano.
An ambitious plan then, which could be reinforced by the arrival of a financial partner. In fact, according to Women's Wear Daily, the group tasked BNP Paribas with finding a buyer for a 20-25% stake. Recently the Italian media has been linking the LMVH group as a potential candidate, but the other giants in the luxury business should also be interested.
By Jonathan Fulwell (Source: Emili-Alice Fabrizi)
Copyright © 2023 FashionNetwork.com All rights reserved.