Burberry appoints new President Europe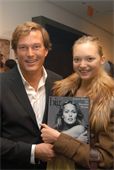 Andrew Maag on left. Photo : Patrick McMullan
Andrew Maag
is promoted to President of
Burberry
Europe, succeeding now retiree Joy Frommer. For the last 4 years he has been Senior Vice-President of Menswear, evolving the business model from licensed-driven to wholly owned. Revenue grew 40% during this time. His new role puts him at the forefront of Burberry's largest market, Europe. Previously Maag held senior positions at
Limited Brands
, Donna Karan,
Banana Republic
, and YSL rive gauche.
Paul Price replaces the new European Director with an extended role. The newly created job title Senior Vice-President of Menswear evolves to also include Non-Apparel since today this category accounts for over 30% of the British brand's global sales, making it Burberry's largest product division.
By Rosie Hart
Copyright © 2022 FashionNetwork.com All rights reserved.