Burberry Q3 tops forecast, to cut 540 jobs
* Q3 underlying revenue up 9 percent to 329 mln stg
* To cut about 290 jobs in Britain, 250 in Spain
* To make around 50 mln stg of cost savings in 2009-10
* Profit guidance for 2008-09 unchanged
(Adds detail)
By Mark Potter
LONDON, Jan 20 (Reuters) - British luxury goods group Burberry (BRBY.L) beat third-quarter revenue forecasts, helped by heavy discounting, and said it would cut around 540 jobs in Britain and Spain to protect profit in tough trading conditions.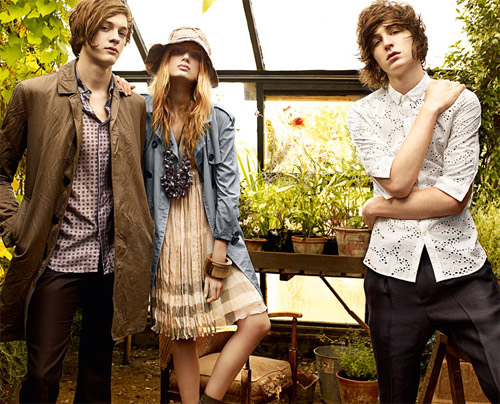 Burberry cadvertising 2009
The 153-year-old maker of upmarket raincoats and handbags said on Tuesday revenues rose 9 percent at constant exchange rates to 329 million pounds ($477 million) in the three months to Dec. 31.
This compared with first-half growth of 13 percent and forecasts of 270 million to 298 million pounds, according to a Reuters poll of nine analysts.
Burberry said full-year adjusted profit would be in line with guidance it gave in November and that around 50 million pounds of cost cuts would underpin profit in 2009-10.
Retailers across the world are struggling as consumers cut spending amid fears of a deep recession and job cuts.
Richemont (CFR.VX), the Swiss group behind Cartier jewellery, missed third-quarter sales forecasts on Monday, while German retail giant Metro (MEOG.DE) unveiled a cost cutting plan on Tuesday.
Burberry, known for its camel, red and black check, said like-for-like retail sales fell 3 percent in its third quarter.
"Revenue benefited from strong promotional activity, especially in December," it said. "This impacted the gross margin but enabled profitable clearance of excess stock. These trends are expected to continue into the fourth quarter."
Burberry said it planned to cut 250 jobs in its underperforming Spanish market, and close a sewing plant in Rotherham, northern England, resulting in up to 290 job losses.
Production and investment will be focused in nearby Castleford, where Burberry's iconic trench coats are made.
The group, which has 116 stores, 253 concessions and 76 franchised stores across the world, said the cost of its restructuring plan would be up to 60 million pounds.
Burberry shares have underperformed the European DJ Stoxx personal and household goods sector .SXQP by 38 percent over the past year. They closed on Monday at 205.75 pence, valuing the business at about 926 million pounds. (Editing by Dan Lalor)
© Thomson Reuters 2022 All rights reserved.